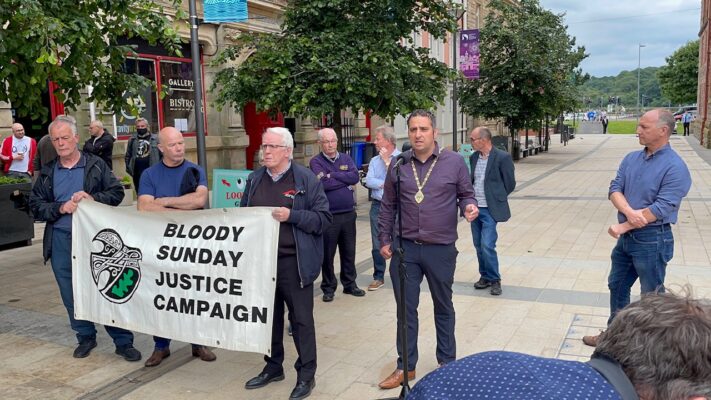 A 'solidarity' event has taken place in Derry's Guildhall Square in support of the families impacted by the PPS decision not to prosecute former soldiers in connection with killings in the city in 1972.
The families of those killed on Bloody Sunday have expressed disappointment at the collapse of the trial of Soldier F, saying they will challenge the decision in the High Court.
Proceedings against Soldier B who was to be prosecuted with the murder of 15-year-old Daniel Hegarty in July 1972, and of wounding with intent of his cousin Christopher Hegarty, have also now been withdrawn.
Daniel Hegarty was shot twice in the head close to his home in the Creggan area of the city during what was called Operation Motorman.
Soldier F was accused of murdering James Wray and William McKinney on January 30 1972, when British troops opened fire on civil rights demonstrators in the Bogside area of Derry, killing 13 people.
The ex-paratrooper was also accused of the attempted murders of Patrick O'Donnell, Joseph Friel, Joe Mahon and Michael Quinn.
The Bloody Sunday Trust hosted a 'solidarity event' with the Bloody Sunday families and the family of Daniel Hegarty on Saturday afternoon.
It was attended by hundreds of people including SDLP Foyle MP Colum Eastwood, Sinn Fein MLA Martina Anderson and Derry City and Strabane District Council Deputy Mayor, Councillor Chris Jackson.
The event outside the city's Guildhall was addressed by relatives of those killed.
Supporters of Relatives For Justice and the Bloody Sunday Justice Campaign also gathered outside the High Court in Belfast and Newry courthouse on Saturday afternoon.
In Newry, dozens of supporters held placards calling for no amnesty to be granted for soldiers suspected of criminal offences while serving in the North of Ireland during the Troubles.
Other held up photographs of the 13 people shot dead on Bloody Sunday following a civil rights march through the city.
Tags: