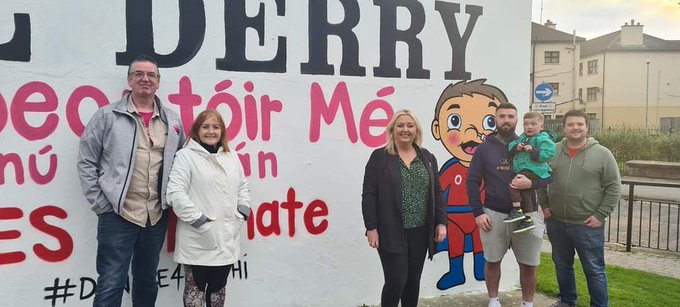 Long-awaited laws on opt-out organ donation in Northern Ireland have been given approval to proceed after talks at Stormont.
First Minister Paul Givan announced the decision on social media on Thursday.
It followed talks between Mr Givan, Health Minister Robin Swann, who proposed the legislation, and campaigners.
Mr Givan said the legislation can now proceed by way of urgent procedure to the Northern Ireland Assembly.
It will be up to Speaker Alex Maskey to decide today when the bill can be introduced in the Assembly, before the summer recess begins next week.
The news has been welcomed by Derry politicians.
Sinn Fein Foyle MLA Karen Mullan tweeted: "Massive well done to @Donate4Daithi Campaign team, Mairtin, Steph and wee Daíthí who have tirelessly championed soft opt-out organ donation bill which has been signed off tonight."
Mr Swann said he was pleased that the organ donation bill had been signed off by Mr Givan and Deputy First Minister Michelle O'Neill.
Earlier, he had accused the DUP of blocking the bill on a "point of principle" and described the delay as very frustrating.
His proposed bill would mean people automatically become donors, unless they specifically say otherwise.
It needed approval from the executive before it can go to the assembly.
Northern Ireland is the only part of the UK without a soft opt-out system, after the law in England changed last year.
Mr Givan is expected to meet campaigners at Stormont on Friday to discuss the bill's approval.
They have hailed the decision and said there was no time to waste in order to get the legislation through the Northern Ireland Assembly before its mandate ends.
Máirtín MacGabhann, whose four-year-old son Dáithí has been waiting on a new heart for three years, said it was an emotional night.
"It's so important because time is running out on this mandate and we had until the end of this week to get this approval.
"So this is a massive victory but, in some ways, it's a small victory too because time is still running out.
"But this news tonight gives it a lot better chance of going through, so we are proud of the work we've done and the work others in the British Heart Foundation have done along with us."
Following the announcement, the head of the British Heart Foundation Northern Ireland, Fearghal McKinney, said his organisation "very much welcomes the decision".
"Our elected representatives will now have the opportunity to consider, scrutinise and debate the issue. But we must not get complacent, this is just the start of the process," he said.
Tags: