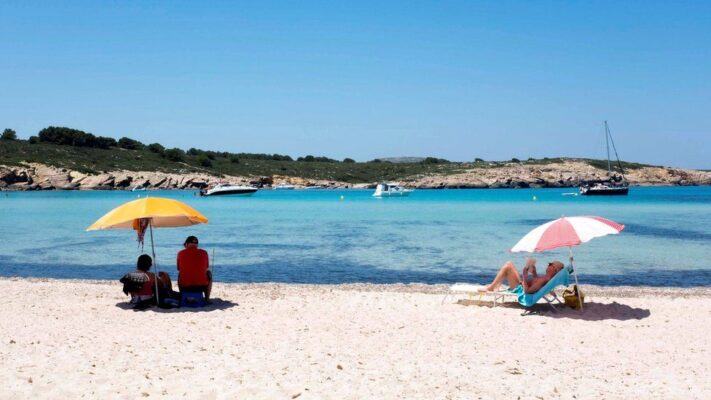 Spain's Balearic Islands, Madeira, Malta and Barbados are among the places being added to the UK's green travel list, the British transport secretary has said.
People entering the UK from 16 places will not have to quarantine from 4 am on Wednesday, June 30, Grant Shapps confirmed.
He also said the government intended to drop quarantine for fully vaccinated people returning from amber list countries "later in the summer".
Six destinations have also been added to the government's red list.
The travel industry welcomed the additions to the green list, but urged the government to go further.
The destinations added to the green list from 04:00 BST on 30 June are:
Europe: The Balearic Islands (which include Ibiza, Menorca, Majorca and Formentera), Malta and Madeira
Caribbean: Antigua, Barbados, Barbuda, Dominica and Grenada
UK overseas territories: Anguilla and Montserrat, Bermuda, British Antarctic Territory, British Indian Ocean Territory, British Virgin Islands, Cayman Islands, Pitcairn, and Turks and Caicos Islands.
The places added to the red lists for the same time are:
Dominican Republic, Eritrea, Haiti, Mongolia, Tunisia and Uganda.
Mr Shapps cautioned that all the additions to the green list, with the exception of Malta, had also been added to the green watch list, signalling that they are at risk of moving back to amber. Israel and Jerusalem have also been put on the watch list.
The Department for Transport said the plan to allow fully-vaccinated people to arrive from amber list countries without having to quarantine was expected to take place in phases, starting with UK residents.
The department also said it intended to remove the guidance that people should not travel to amber countries, and it would take clinical advice on whether regular testing could provide a safe alternative to quarantine for children accompanied by vaccinated adults.
A spokesman said further detail will be set out next month, including the rules for children and those unable to be vaccinated and the dates the changes will come into effect.
The prospect of European holidays also faces another hurdle after German Chancellor Angela Merkel suggested all EU countries should make British travellers quarantine on arrival to slow the spread of the Delta variant.
Mrs Merkel told Germany's parliament: "In our country, if you come from Great Britain, you have to go into quarantine – and that's not the case in every European country, and that's what I would like to see."
French President Emmanuel Macron also spoke of his concern at the spread of the variant.
"We should all be vigilant because the Delta variant is coming," he said on Thursday.
"We see that it affects people who have not yet been vaccinated or who have only had one dose, which means we have to be even faster in this vaccination campaign."
Tags: