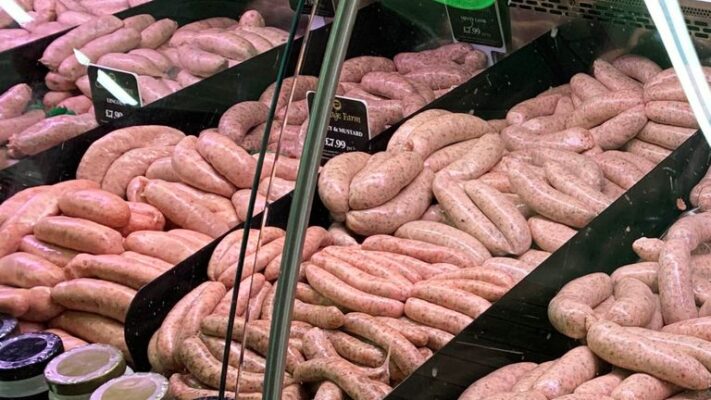 THE EU is poised to agree to a UK request to delay a ban on chilled meat products from Great Britain being sold in the North of Ireland.
Products such as chilled sausages were due to be prohibited from Tuesday as a consequence of the post-Brexit NI Protocol arrangement.
It is understood the European Commission has recommended a delay should be allowed.
However, it wanted further discussions with the UK before confirming the move.
The EU normally bars chilled meat products from being imported into its single market.
The NI Protocol was designed as part of the Brexit deal to keep the North of Ireland closely aligned with this market, ensuring free trade across the Irish border.
Unionists have criticised the mechanism for causing additional checks on some trade between Great Britain and the North of Ireland.
Last week, the UK asked the EU for more time as a six-month grace period on the ban on chilled meat was due to expire.
RTÉ has reported the conditions of the extension would be the UK agreeing to align with relevant EU food safety rules for its duration and further discussions about a long-term solution for Great Britain to NI food movements.
On Wednesday, British Secretary of State Brandon Lewis told a Westminster committee that the government was "optimistic and confident" that changes will be made to the protocol.
He described the current situation as "unsustainable".
Mr Lewis said the UK was awaiting a response from the EU on a request to extend grace periods for chilled meats.
He also said he would discuss the matter with the Irish government at a high-level joint summit in Dublin on Thursday, June 24.
Tags: