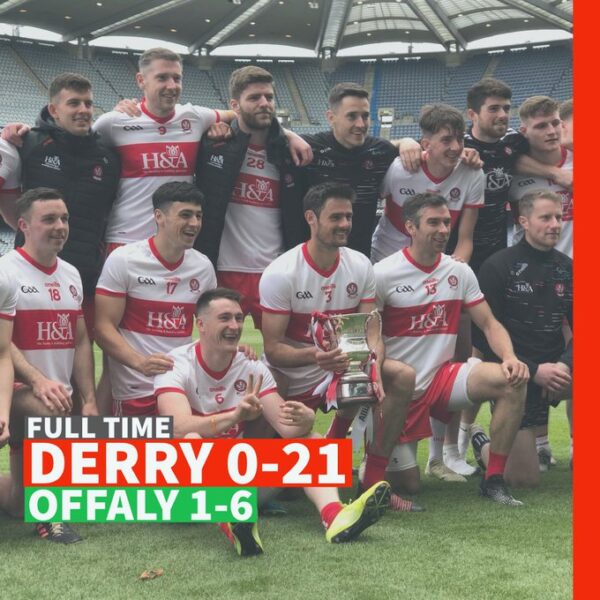 DERRY cruised to the Allianz League Division 3 title yesterday with a comprehensive 0-21 to 1-6 victory over Offaly but didn't achieve any more than expected by boss Rory Gallagher.
Both sides won promotion the previous week and the Ulster men ran out 12-point victors in Croke Park in a quickly arranged fixture, which also served a test event for spectators at HQ.
"I'd be very pleased with the attitude and commitment to each other," Gallagher, whose side meet the winners of Down and Donegal in the Ulster SFC on July 11, said after the match.
"There were moments when I felt we just took wrong options and, call it what you want, we were a bit selfish on the ball, which I wouldn't be happy with whatsoever.
"It's not unlucky when you miss some chances, and we've worked on that.
"We want to be one of the top teams in Ulster and in the country.
"I expect us to be a wee bit better than we are, that's a sign of the potential of the team. But we had to prove that we were good enough to get out of Division 3.
"We were thinking of it (the Ulster Championship) after the first league game. We felt, the way we came out of the blocks it was going to take a very unlikely series of events for us not to be promoted.
"We were good enough to come out the other side. So our eyes have been on Down and Donegal."
Offaly manager John Maughan, whose side face Louth next Sunday in Navan, had no complaints about the 0-21 to 1-06 scoreline.
"We always felt it would be good preparation going into the Louth championship game," he said.
"They're a little bit despondent, heads are down a little bit in the dressing-room, but they'll be fine.
"That was a bonus game for us, we didn't anticipate it would go ahead this day last week so they were excited last Sunday morning when I told them the game was going ahead. So I have no regrets whatsoever.
"We struggled all over the pitch, to be quite honest with you. Derry are very formidable.
"They are way advanced in their experience, expertise, the physicality of their midfield, they have a lot of top-class performers."
Tags: