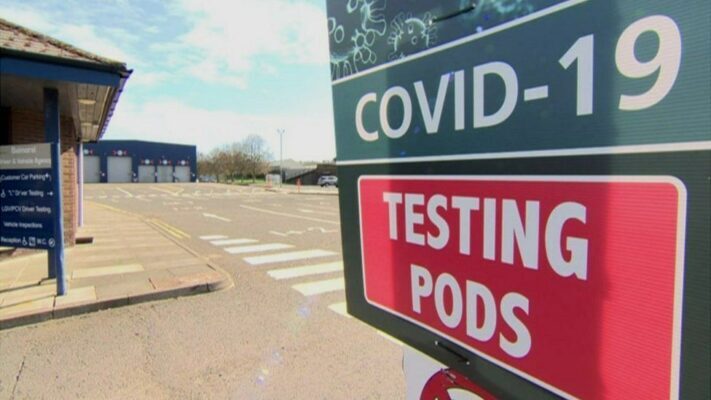 THE number of Delta variant Covid cases has more than doubled in the North of Ireland over the past week.
There has now been 254 probable or confirmed cases of the variant detected.
That is up from the 111 from last week, according to health officials.
Chief Medical Officer Sir Michael McBride has warned the Delta variant is likely to become the dominant strain of the virus, as has happened in other parts of the UK.
But the pace of that spread, he said, could be controlled if more people, particularly those in the 18 to 30 age group, were vaccinated.
"Let me say, firstly what I said to my own son," he said.
"I said to him 'son, by getting your vaccine you are protecting your mum and your dad. You are also protecting your granny and your grandfather.
"And while you may not get sick you may make others sick and that's why it's really, really important that you get your vaccine.
"So, what I said to him was 'don't be a mug'".
The number of positive cases reported on Wednesday was 143 – the largest daily increase since the middle of May.
And 45 of those were recorded in the Derry City and Strabane District Council area – a rise of 23 on the previous day.
During a briefing for journalists with health officials – including the Chief Scientific Adviser Prof Ian Young and Dr Brid Farrell from the Public Health Agency – modelling used to track the progression of the virus was presented.
Three scenarios entitled optimistic, central and pessimistic were presented showing the potential rise in Covid cases after the summer.
The first optimistic scenario, suggests that by September there could be 50 to 100 new positive cases a day with 15 to 20 Covid patients in hospital.
A second so-called central scenario indicated there could be 1,100 new positive cases a day resulting in 200 to 250 hospital in-patients.
In the worst case, known as the pessimistic scenario, which officials stressed was very unlikely to happen, there could be up to 5,000 cases a day with 1,000 Covid patients requiring hospital treatment.
Indications of exactly which scenario is played out would become clearer by July and depends on on adherence to public health guidance and vaccination uptake.
At present about 80% of adults aged over 18 have had a first dose of the vaccine with around 54% having had both jabs.
The Department of Health has announced additional pop-up vaccination clinics are being set up to target people in harder-to-reach communities where there may be some vaccine hesitancy.
"What we are showing is that it clearly is within our hands to help us find a pathway back to normality," Prof Young said.
"Those are the terms on which we are thinking".
Dr Farrell from the Public Health Agency added: "The increase in Delta variants is not unexpected but we still have time to slow it down to allow more people to become vaccinated.
"We have the option in the future to do more targeted case finding if required, to try and slow down the progression of the variant."
Tags: