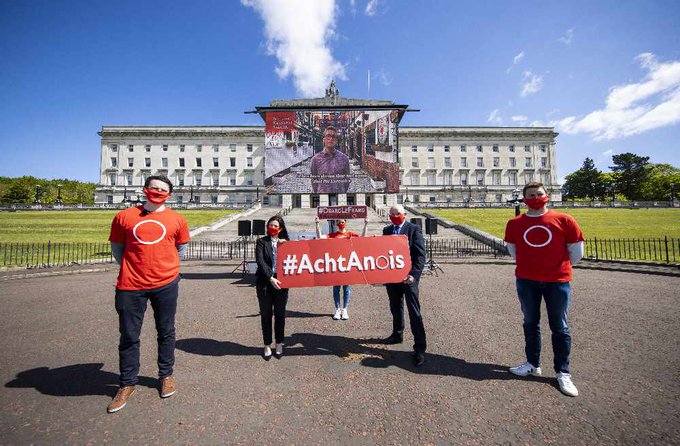 SINN Féin has told the UK government it should legislate for the Irish language through Westminster to resolve a Stormont split on the issue.
Party leader Mary Lou McDonald claimed the government offered to intervene weeks ago but the party declined.
DUP MP Sammy Wilson said the government "must not interfere in devolved issues at the behest of Sinn Féin".
A stand-off has developed between the parties over language and culture law.
DUP leader Edwin Poots said he intended to back an Irish language law, but not necessarily before the next election.
Mrs Foster, who was replaced as DUP leader last month and stepped down as First Minister on Monday, said a deal on language and culture – struck in January 2020 – was the "only model for success".
The long-standing issue has come to the fore again as a result of the resignation of Mrs Foster as first minister.
When she stood down, Sinn Féin's Michelle O'Neill also lost her position as deputy first minister because the roles are a joint office.
The DUP has nominated Paul Givan as Mrs Foster's replacement.
But Sinn Féin has suggested it may not support a new DUP first minister unless legislation on the Irish language is approved by ministers before July 10.
Both parties must agree on the candidates for the top two jobs in the Stormont executive.
They have until Monday to approve new first and deputy first ministers, otherwise British Secretary of State Brandon Lewis will be obliged to call an election within a "reasonable time".
After meeting Mr Lewis on Monday night, Ms McDonald said government intervention was the "only way forward to finally resolve" the dispute over Irish language legislation.
She said Sinn Féin had declined an earlier offer from the UK government to legislate at Westminster because its preference was for the matter to be dealt with at Stormont.
"We have engaged intensively with the DUP and with party leader Edwin Poots," said Ms McDonald.
"He has told us that they will not be delivering [an Irish language act] in this mandate.
"This legislation was negotiated a year-and-a-half ago and it is now incumbent on the British and Irish governments to act."
The 2020 deal as part of the New Decade, New Approach (NDNA) agreement, included an Office of Identity and Cultural Expression, an Irish language commissioner and a commissioner to enhance and develop the language and culture of the Ulster-Scots/Ulster-British tradition.
But Mr Wilson, DUP chief whip at Westminster, said: "To force through the latest Sinn Féin wish list will cause further damage to the credibility of the Northern Ireland Assembly.
"Rather than running to Her Majesty's Government when they can't get their way, republicans should respect our mandate.
"Sinn Féin is playing the politics of ransom and are placing culture above health, education and economic recovery."
In July 2019, when Stormont was suspended, MPs at Westminster backed amendments to liberalise abortion and extend same-sex marriage to Northern Ireland.
Mr Wilson said this "only served to undermine devolution".
Speaking on Tuesday, SDLP leader Colum Eastwood said all of the NDNA commitments needed to be delivered "urgently", adding: "That includes the Irish language leglislation, it includes other cultural leglisation in the agreement."
However, Mr Eastwood said he would "absolutely not" use Irish language legislation as a red line in the middle of a pandemic.
"Sinn Féin were telling everybody they were prepared to bring down the executive in order to do this, I have been saying for a long time that is absolutely wrong and it should not be happening," he said.
"The number one priority is our health service and people who are dying on waiting lists."
On Monday Mr Poots said "time will tell" whether the implementation of the deal would happen in the existing Northern Ireland Assembly term, which is due to expire in April 2022.
He added that it was not appropriate for Sinn Féin to set preconditions on nominating a first and deputy first minister.
"It's not respecting someone's mandate… I'm not setting preconditions to the selection of Sinn Fein's deputy first minister," he said.
Sinn Féin's Conor Murphy said "broken commitments undermine seriously the ability to do power-sharing".
Tags: