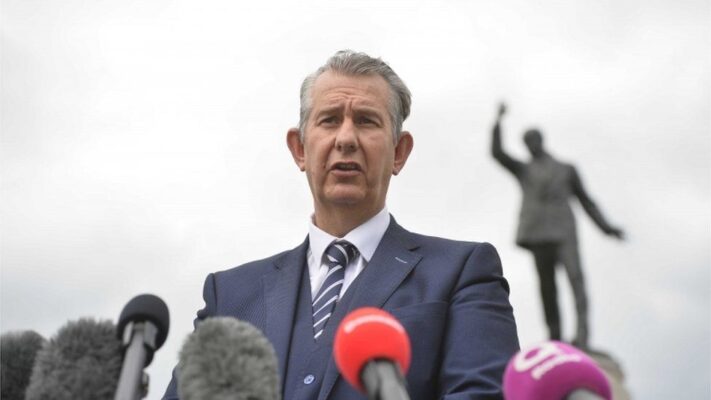 DUP leader Edwin Poots has said any failure by Sinn Fein to nominate a Deputy First Minister could risk peace in the North of Ireland.
Speaking on BBC Good Morning Ulster, Mr Poots made the comments as Arlene Foster is due to step down today as First Minister.
Sinn Fein want the new DUP leader to commit to introduding an Irish Language Act as agreed under the New Decade, New Approach document.
Once Mrs Foster resigns, there will be a seven-day period for the approval of a new first minister and deputy first minister by Sinn Féin and the Democratic Unionist Party (DUP).
Her departure comes six weeks after she was overthrown as the leader of the DUP.
Mr Poots said he expects to nominate Paul Givan as her successor in "the next couple of days" and warned Sinn Fein against withholding their nomination over an Irish language act.
"It's not appropriate, it's not respecting someone's mandate and we cannot be in a circumstance where we have preconditions set for the selection of our First Minister," he said.
"I'm not setting preconditions for the selection of Sinn Fein's Deputy First Minister. That's not appropriate in a democracy, it's certainly not appropriate in the democracy that we have where it's mandatory coalition."
He said this would prevent progress on tackling waiting lists, unemployment and tackling educational under achievement.
"Our community is at a very tense situation at this moment in time. We saw riots on the streets of Belfast earlier this year, and I have serious concerns about the potential for conflict once again on our streets."
He said any failure by Sinn Fein to nominate a Deputy First Minister would not only delay progress on wider issues, but "we are putting our very peace at risk as a consequence of that action.
"So if Sinn Fein are going to play fast and loose with the very peace that people enjoy at this moment in time, then that is a very serious consideration for them to take. Hopefully they won't."
Mr Poots said he was committed to passing all aspects of the New Decade New Approach deal, which restored the Stormont Assembly last year, including the cultural provisions.
Asked if this would happen in the next mandate, he said: "Time will tell, that is a course of work that we're looking at.
"What is important to us at this moment in time is that we get the Assembly operating and that we continue ensuring that business is transacted."
He said the public was more concerned with issues like health waiting lists and helping around 95,000 people who were still on furlough.
On the recent controversy in which which singer Van Morrison and DUP MP Ian Paisley took to the stage at the Europa Hotel to chant "Robin Swann is dangerous", he said: "It shouldn't have happened.
"I spoke to Ian immediately after that, Ian agreed that it shouldn't have happened. Ian agreed with me that he would apologise to Robin Swann and Ian has subsequently apologised to Robin Swann.
"I welcome that…I trust that we can now move on."
Commenting on the latest incident of high profile party members quitting the DUP, Mr Poots said he was sad to see any member leave but said the media coverage had been out of proportion.
Tags: