Four men – aged 42, 39, 39 and 29-years-old – were arrested on Wednesday by the PSNI, as part of an investigation into the incident in the Ardfoyle area of the city on May 21.
All have now been released following questioning, the PSNI said adding that the "investigation remains ongoing".
The man's lawyer, Ciaran Shiels of Madden & Finucane solicitors, said in a statement: "We can confirm that the unconditional release was secured for the 42 year old man arrested on Wednesday morning in the Ballymagroarty area of Derry under the Terrorism Act in relation to the event commemorating the 40th Anniversary of the death on hunger strike of Patsy O'Hara.
"We understand the other three Derry men arrested in the same operation were also released.
"We have grave concerns about the arrest of our client who spent 12 hours in police detention.
"He was accused of various firearms offences, a recent punishment attack, and INLA membership.
"Police searched our client's family home early on Wednesday morning by virtue of a Terrorism Act search warrant.
"When he was informed about the ongoing search, he made his way home to be arrested and subsequently taken to the Serious Crime Suite in Musgrave Street, Belfast.
"Without fear of contradiction, we say that not a single shred of any evidence, regardless of how tenuous, was put to him at any stage in the interview process.
"In the final interview, police variously alleged that he was a member of the INLA, the Ulster Volunteer Force and then the IRA on two occasions whilst he was deprived of his liberty.
"Intelligence was even put to him alleging that he was operating as a masked gunman firing live rounds at the Patsy O'Hara commemoration along with a family member who was engaged in the same activity.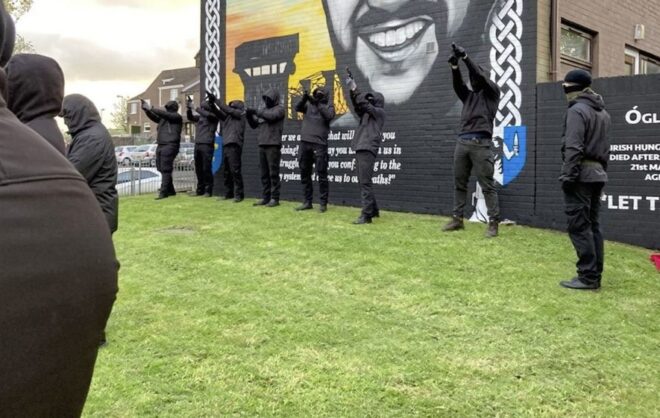 "In actual fact, the same family member was clearly apparent in footage, wearing a pair of shorts whilst standing beside a crowd of onlookers when the shots were discharged at the hunger stike event.
"We will be advising him in relation bringing a civil action for unlawful arrest against the Chief Constable in due course."
Tags:
A MAN released unconditionally by police after his arrest in the wake of an INLA show of strength in Derry last month is now considering legal action against the PSNI.