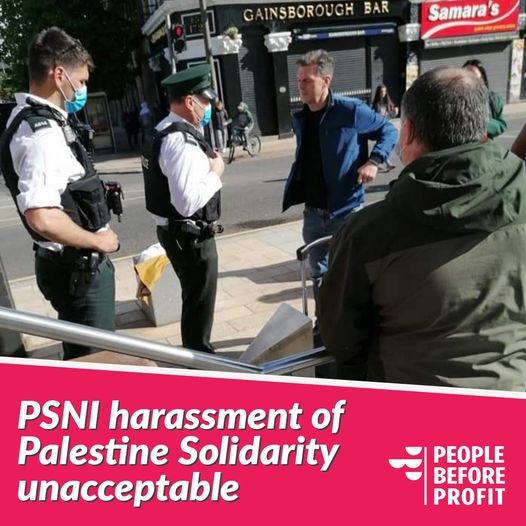 PEOPLE Before Profit have accused police in Derry of harassing its local elected councillor.
The party says that at a Derry Trades Union Council organised action on Tuesday in solidarity with the Palestinian General Strike the PSNI attempted to "extract" PBP Cllr Shaun Harkin.
People Before Profit Cllr Shaun Harkin said: "I attended the Derry Trades Union Council organised action in solidarity with the Palestinian General Strike on Tuesday in the city centre.
"The emergency event was organised in response to the slaughter being carried out in Gaza by the US funded Israeli Defense Forces and was attended by trade unionists, Derry and Strabane Councillors, students, Jewish Voice for a Just Peace, social justice campaigners and others respecting social-distancing and wearing masks.
"The Derry and Strabane Council backed a People Before Profit call for the right of people to join Palestine solidarity actions to be respected by the PSNI.
"Despite this the event was targeted by the PSNI and participants were harassed.
"Throughout the pandemic we have witnessed selective policing when it comes to Black Lives Matter, workers rights, women's rights and now Palestine solidarity.
"A clear message needs to be sent, police harassment of Palestine solidarity is unacceptable.
"More mass actions are planned this weekend.
"We encourage everyone outraged at the bombardment of Gaza and ethnic-cleansing in Jerusalem to join the socially-distanced emergency action for Palestine at 3 pm this Saturday at Free Derry Wall.
"Stormont, the Dáil and Westminster must end their complicity with the US-led attempt to normalise Israeli Apartheid."
Link to Saturday Palestine Solidarity Action here: https://fb.me/e/YyPD19Pe
Tags: