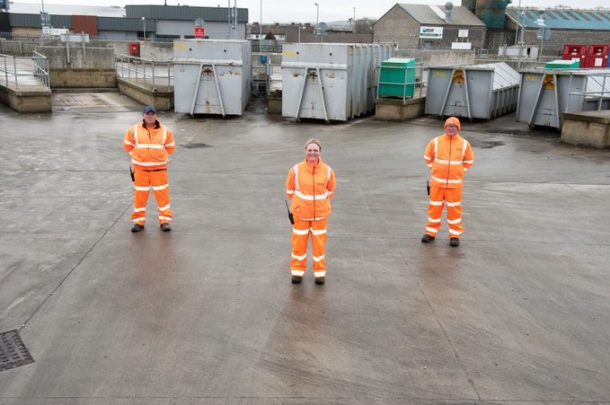 DERRY City and Strabane District Council is to introduce an online booking system for large vans at its main recycling centres at Pennyburn, Strathfoyle and Strahans Road, from next week in an effort to improve accessibility to its services.
The new system will come into force from Monday, May 24 and, in addition to facilitating large vans, cars and small vans can also be booked via the online system for the Glendermott Road and Eglinton recycling facilities.
Last year as a result of the pandemic and in order to comply with strict guidance for health and safety, large van access was restricted to one hour per day at recycling centres across the Council area.
Vehicular access to the Glendermott Road and Eglinton sites was also restricted due to health and safety regulations with users having to book appointments over the telephone.
In addition to introducing the online booking system, the Council has also extended evening opening times at Glendermott Road and Eglinton in order to improve recycling provision for local citizens.
Speaking ahead of the move to online systems of work, the Council's Waste Services Manager Nicola McCool said: "The last year has been very challenging for everyone with so many changes to services as we adapt to COVID-19 and we really appreciate the patience of the public especially towards our frontline staff.
"We are confident that this positive change will lift the restriction on large van users only being able to access Pennyburn, Strathfoyle and Strahans Road recycling centres during a one hour period each day, and greatly assist them by providing a choice of booking slots throughout the day.
"It will also enable car and small vans drivers to book daytime appointments at Glendermott Road and Eglinton recycling centres online.
"We are also very pleased to be in a position to extend our opening times at these sites (Glendermott Road and Eglinton), with users being granted access without a booking in the evenings between 6-8pm and 5:30-8pm respectively.
"The booking process is very straightforward; from 24th May people can simply click on www.derrystrabane.com/clicktorecycle, complete their details and they will get a text notification to confirm their slot.
"We will also still have a telephone booking system for people who aren't confident online; it is T: 02871376590."
Nicola added: "I would appeal to people to continue to be patient and respectful towards our recycling centre attendants as they implement this change and to adhere to the signage and COVID health and safety measures in place at all of our centres."
Tags: