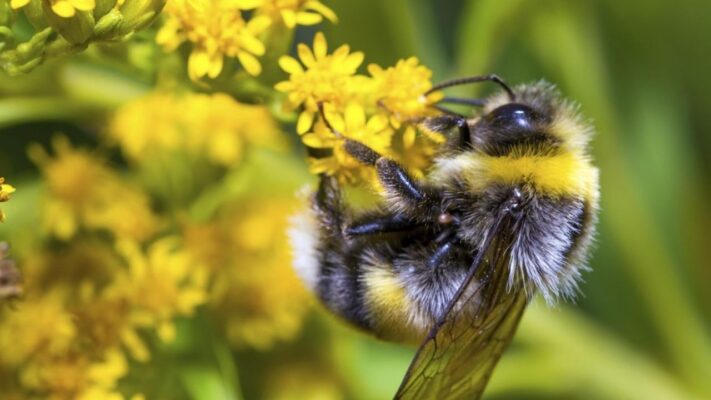 OFFICERS from Derry City and Strabane District Council will feature in a documentary being aired on TG4 next week to mark World Bee Day.
Dr Christine Doherty and Pól Ó Frighil from the local authority will join experts from across Ireland talking about practical measures being taken to reverse the decline of our bee population as part of the All Ireland Pollinator Plan.
Just last year, Derry City and Strabane became one of the first Council's to change the way in which its grass was being cut in order to assist pollinators through the Don't Mow, Let it Grow initiative.
This year the Council has upped the ante extending this practice to include 30 ha across 11 large park sites and 23 cemeteries in a drive to bring back the bees on Council owned sites.
Speaking ahead of the documentary, Council's Biodiversity Officer Dr Christine Doherty, said: "We are really excited to have been part of this programme looking at the collective island-wide response to protecting our bee species.
"Unfortunately, so many bee habitats in gardens, parks and hedgerows have been destroyed due to factors like over maintenance and pesticides.
"We need bees to pollinate fruits and crops for our food supplies so it's critical that we do all we can to reverse this problem.
"Over the summer months, local people may see areas of grass uncut in some of our parks and cemeteries and this has been done deliberately to stimulate bees and butterflies.
"People can also create little wildflower havens at their homes too by leaving a patch of grass uncut and even sowing some wildflower seeds.
"We hope that Plean Bee will educate and raise awareness of this really important issue and will encourage more people to take action."
Plean Bee Producer Deaglan O Mochain added: "When making Plean Bee, our new documentary on the All Ireland Pollinator Plan, it was such a pleasure to meet with those who set up this visionary plan, as well as those who are working hard on the ground to implement it.
"As a Derry resident I can see at first hand what's been done by Derry City and Strabane District Council and others to support bees and pollinators, and we were delighted to film with Christine and Pól and other members of the council in Culmore Park, as well as other fantastic locations like Brooke Park, St Columb's Park and along the Strand Road.
"Our neighbours in Buncrana are also doing amazing work, reversing years of decline in bees and other insects.
"Hopefully the film helps showcase the crucial work of the AIPP, a rare environmental success story of great value to us all."
Plean Bee will be aired on TG4 on Thursday, May 20 at 9 pm.
To view a sneak peek visit Council's YouTube Channel: https://youtu.be/SSZKB2FJxuo
Tags: