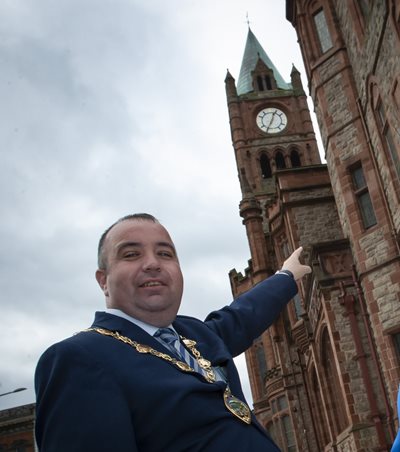 MAYOR of Derry City and Strabane District Council, Councillor Brian Tierney, says this year's International Nurses Day is particularly poignant given their key role in the Covid 19 crisis.
The Guildhall Clock, Alley Theatre and Council Offices will be lit blue on Wednesday, May 12 for the global celebration of the contribution nurses make to society which is held annually on the anniversary of nursing pioneer Florence Nightingale.
Mayor Tierney urged the public to take a moment this week to reflect on the commitment and bravery of nurses both locally and around the world.
"I would like to wish our hard working and dedicated nursing staff across the Western Trust area a Happy International Nurses Day," he said.
"Across our local community and our hospitals, our nurses have worked tirelessly through this pandemic going above and beyond the call of duty to make sure our sick and vulnerable receive the care and attention they need.
"Your mammoth efforts to ensure that our health service continued to function in the most testing of circumstances is something everyone in the City and District is grateful for.
"I want to thank you on behalf of them and recognise that role through the gesture of lighting our Council buildings blue this week."
The International Council of Nurses has set the theme for International Nurses Day 2021 as 'nursing the world back to health', with a focus on the 'true value of nurses to the people of the world.'
Annette Kennedy, the ICN President explained: "This global COVID-19 pandemic has shown the world the important role that nurses play in keeping people healthy across their lifespan and so the day will be focused on the future of healthcare."
You can learn more about International Nurses Day 2021 and other ICN events by visiting their website: https://www.icn.ch/
Tags: