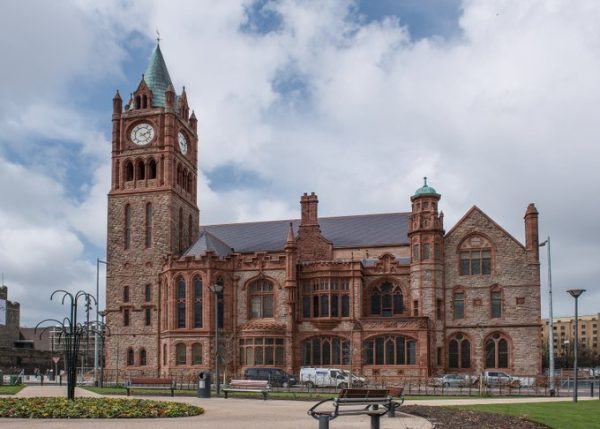 MEMBERS of Derry City and Strabane District Council have warmly welcomed the allocation of over £750,000 in grant support to fund a raft of arts, culture and heritage projects through Council's Culture Grant Aid programmes.
The funding was ratified last night at a virtual meeting of Full Council after Council's Business and Culture Committee received an update on the roll out of the programmes at its monthly meeting held virtually earlier in the month. T
he programmes span a wide range of cultural initiatives and groups, including Cultural Organisations, Heritage Animation, Access Programme for Cultural Organisations, Headline Events, Community Festivals, the Artist & Cultural Practitioner Award and the Decade of Centenaries Fund 2021/22.
The funding will help support the delivery of events, capital improvements, programming, animation and new work
over the coming months.
The arts sector has been one of the hardest hit during Covid19 and during the meeting Members took the opportunity to voice their support for the industry, and pledged to continue to explore new ways to reach out to the cultural sector.
Council's Head of Culture Aeidin McCarter presented the report to the committee, and said that Council continued to engage with local arts organisations and venues to ensure they have access to the information and funding support needed to sustain them through the ongoing health crisis.
Online information sessions have already been held to provide an opportunity for groups to find out more about available financial support through Cultural Grant Aid Programmes.
Welcoming the decision to approve the funding, Chair of the Business and Culture Committee, Rory Farrell, said it would provide a lifeline for hard hit arts groups.
"We are all aware of the devastating impact Covid19 has had on the Arts, Culture and Heritage sector over the past year.
"Council has a vital role in promoting and supporting local arts and culture, and it simply hasn't been possible to offer artists and performers the platform to engage with audiences through our usual events programme.
"So Council has been working hard to adapt and find new ways to provide cultural experiences through online and outdoor events. The Culture Grant Aid programme will prove vital in supporting artists and performers as they find new ways to engage.
"While we are taking the first tentative steps towards easing lockdown, it will still be some time before we can return to our cultural venues to enjoy the live performances we are all missing so much.
"This support will be needed over the coming weeks and months to ensure that our arts, culture and heritage scene recovers with the energy, diversity and creativity that sets it apart."
Members approved the provision of the proposed allocations outlined in the report, as well as an additional £11,303 – £3,303 for Cultural Organisations and £8,000 additional for the Artist & Cultural Practitioner Award – recommended by officers to extend support to additional eligible projects.
This included £204,973 allocated through Council's Headline Events fund, £195,303 through the Cultural Organisations Fund, £29,000 for the Decade of Centenaries Fund and £32,978 allocated through the Community Festivals Fund.
Tags: