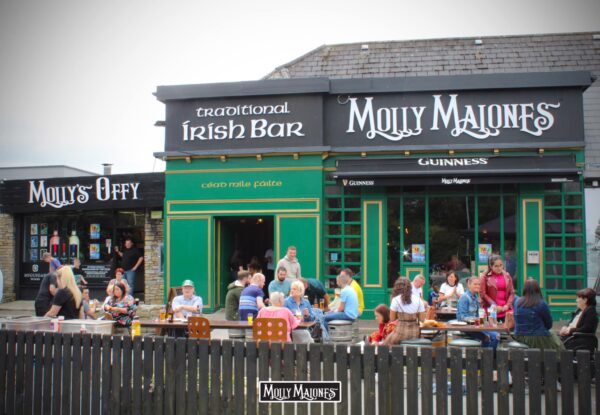 STORMONT ministers have joined calls for an urgent resolution to concerns around the use of outdoor spaces — less than 24 hours before some hospitality venues reopen across the North of Ireland.
Outdoor venues such as pubs and restaurants will resume trading on Friday as part of the latest easing of lockdown restrictions.
But some venues, including a number in Derry, have been told they can't open because of a change in the health regulations.
Among the local pubs impacted are the Magnet Bar at Culmore, Molly Malone's in Ballymagroarty and the Happy Landing in Eglinton, Co Derry.
They have reluctantly had to inform customers that they will not be able honour bookings made for Friday.
These pubs will now have to wait until May 24 when 'indoor' bars could be allowed to reopen under what the Executive have described as an "indicative date".
This means they will only be allowed to reopen if there is not a surge in Coronavirus cases and hospitalisations.
Outdoor hospitality venues have received visits from council officials telling their premises did not meet the health requirements for reopening.
On its Facebook page, Molly Malone's told its customers: "Hi folks, we have some bad news….
"Due to the current restrictions we will not be able to open this Friday for outside service as planned 😭
"Apologies to all of our staff and customers, who had been very much looking forward to getting back to Molly Malones this Friday.
"We will keep you all updated with a date when we are permitted to open.
"Thanks."
It's same the news in Belfast where the popular Sunflower Bar in Union Street received a visit yesterday from the local council and told it couldn't reopen.
Owner Pedro Donald was told that his outdoor space at the rear of the bar had four walls and did not currently comply with the anti-smoking legislation.
Hospitality Ulster's chief executive Colin Neill said the interpretation of regulations was 'far too stringent'.
"The idea of outdoor [hospitality] being opened again is meaningless if only a relatively small number of venues can actually make it work," he said.
"Many will have prepared for reopening by buying thousands of pounds worth of stock to replenish their empty bars, only to be told that their set up does not meet the regulations, despite being open to the same standard in previous failed reopening phases."
In a tweet, Justice Minister Naomi Long said she had received confirmation this morning that the regulations have not changed since last year.
"The definition around outdoor space is the same as applies to outdoor smoking areas and is as it was previously," she added.
In a video on Twitter, her Executive colleague, Communities Minister Deirdre Hargey said she has written to the Health Minister Robin Swann and spoken to the Covid taskforce chair asking for an urgent resolution.
"I'll be raising this again at today's Executive meeting," she added.
Mr Swann said the confusion about outdoor spaces was "hugely disappointing" and also called for solutions to be found.
Tags: