DETAILS of a series of events celebrating Workers' Rights and Social Justice have been revealed today with the launch of a week long programme led by Derry City and Strabane District Council.
The events, delivered by a range of local organisations, will take place online from Monday 26th April – Saturday 1st May 2021.
The themes for this year's programme are history, education and increased access for communities and speakers, and highlights will include exhibitions, talks and live online events.
Throughout the week Council buildings including the Guildhall clock will be illuminated in red to show support for workers' rights.
Concluding the programme on May Day, local people are being invited by Derry Trade Union Council to get involved and make their voices heard by hanging out a red flag in support of local workers and the shirt factory horn will sound in solidarity with essential workers everywhere.
During the week, leading academics Emmett O'Connor, Dr Margaret Ward, and Yvonne Corcoran Loftus, will reflect on the journey followed by local trade unions and the civil rights movement and the role of key figures involved in the movement including James Larkin, James Connolly and Michael Davitt.
Following the digitisation of a collection donated by Paul Laughlin last year, the Museum staff have now digitised a further collection of volumes linked to the Derry Trades Council.
The volumes are linked to the 1960-1990s period and include minute books and attendance registers. They include the historic Troubles period with reference to Bloody Sunday and civil rights marches www.towermuseumcollections.com/workers-rights-and-social-justice/
The staff will also add a series of images to the online gallery linked to an earlier appeal for objects and archives relating to Worker's Rights and Trade Unions.
This appeal will continue to run throughout the month of May so please contact the Tower Museum if you have any interesting items.
There will also be a special focus on women's rights, as well as the role of the Shirt Factories in progressing women's rights in the workplace. 'Shirts, Singers & Sewing Machines – a Shirt Factory Exhibition of the NW' will profile some of the archives and objects linked to local shirt factory heritage.
The project was developed in partnership with the Inner City Trust and the Fashion and Textile Design Centre and explores the key role played by the women of Derry as they kept the shirt industry going and put food on the table for their families.
Curator at the Tower Museum, Roisin Doherty said she was looking forward to delivering a diverse and interesting programme of events.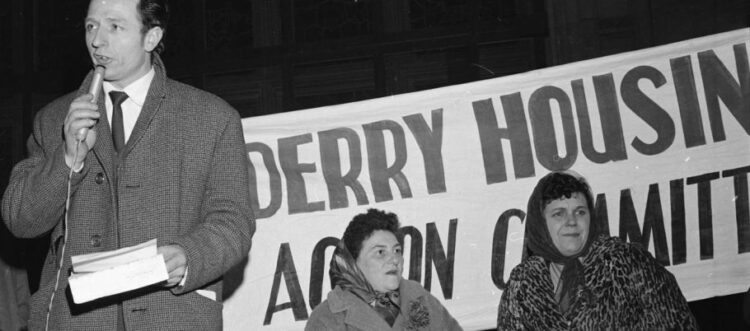 "The WR&SJ programme offers an opportunity to look in more detail at a hugely significant chapter in local history that affects the lives of everyone living here to this day.
"Some of the leading voices in the trade union and civil rights movement lived in Derry, and their campaign laid the foundation for the rights and benefits that most of us enjoy today.
"I am delighted that this year once again we can offer a diversity of webinars and events reflecting our themes and I want to thank all those who responded to our call in for both artefacts and events."
Details of the programme are available online at: www.derrystrabane.com/workersrights
Tags: