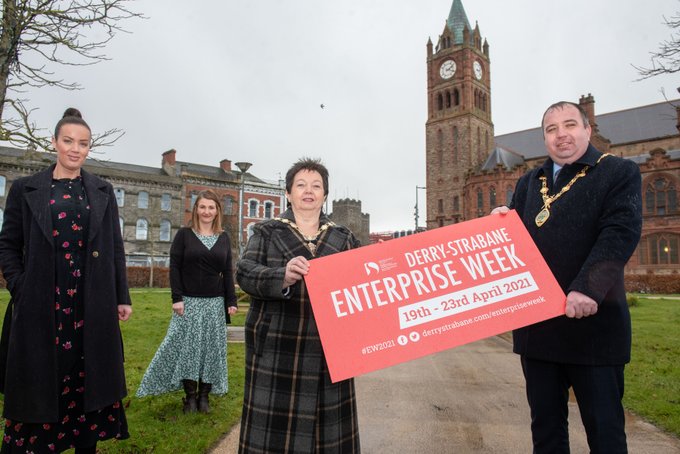 FULL Circle Management Solutions are offering local entrepreneurs an opportunity to avail of free workshops to help grow their business during the Covid recovery phase.
The workshops are part of the programme for Derry City and Strabane District Council's Enterprise Week 2021 which has been moved to a virtual setting this year.
The annual event will be held from Monday April 19th to Friday April 23rd and will offer expert support in building business resilience and how to tailor operations and services to meet the unprecedented challenges that the expected reopening of full trading will bring.
Among the highlights in the five day programme are three Full Circle hosted workshops on Business Resilience, Social Media and Online Advertising.
Simon Devlin, Managing Director of Full Circle, explained more about what people can expect.
"Over the last 12 months, we have seen a massive change in the support needs of small business owner-managers," he said. "The new priorities for many centre around digitalisation and being able to engage with the outside world – customers, suppliers, staff and many others – online instead of face to face.
"Consequently, we have shifted emphasis significantly to provide training and development that is specific to these needs.
"It is also no surprise that the last year has placed an unprecedented pressure on many business-owners due to a lack of certainty about the future prospects of their businesses.
"The resilience workshop is aimed at people in business who have struggled at times to manage these new realities and who want to develop the coping mechanisms to deal more effectively with uncertainty-based stress.​"
The Business Resilience workshop on Monday April 19th at 10am will be hosted by Leah McStavrick from Full Circle who has over 25 years industry experience in finance, operations and people and change management.
She will offer advice and guidance on how to quickly adapt to disruptions while maintaining continuous business operations and safeguarding people, assets and overall brand equity.
This workshop will help to identify your own personal strengths to help deal with the tasks ahead, providing you with a practical road map for the future and an understanding of what makes your business strong and sustainable.
An introduction to Social Media for Business Users on Tuesday April 20th at 10am is presented by Rachel Gallagher and will detail and discuss the various social media platforms and specific benefits of each dependent on your target market/audience and emphasising the importance of social media for businesses in today's climate.
Finally on Friday April 23rd, An Introduction to Online Advertising with Danielle Wilson will show you how to generate and find new quality leads using Facebook and Instagram.
Among the other highlights in this year's Enterprise Week programme are a two day blended digital and live event powered by Spartacus entitled Level Up 2021 which will seek to inspire post pandemic ideas and spark creativity by exploring how people, both locally and internationally, have innovated and created economic growth and initiated real change.
Other highlights are an EURES Cross Border Tax Briefing Seminar on Tax and Social Security implications for Cross Border Workers and Employers, an introduction to online advertising from Full Circle, an introduction to the local Department for Communities Employer Advisors and a seminar focusing on Human Resources.
You can access the full programme for Enterprise Week 2021 at derrystrabane.com/enterpriseweek and follow the event on social media through the hashtag #EW2021.
Tags: