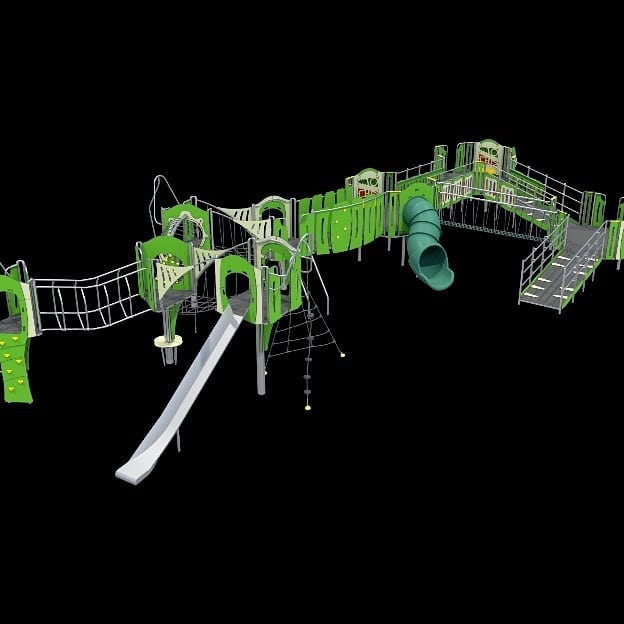 Investment in a new playpark for the community in Eglinton has been welcomed today by Mayor of Derry City and Strabane District, Councillor Brian Tierney, and community representatives in the area.
It was confirmed that AMS Limited would undertake the transformation of the facility, introducing a wide variety of new play equipment for children of all ages and abilities.
The project is being delivered by Derry City and Strabane District Council with support from funding allocated by the Derry and Strabane Rural Partnership under Priority 6 (LEADER) of the Northern Ireland Rural Development Programme 2014-2020 supported by the Department of Agriculture, Environment and Rural Affairs and the European Union.
Funding of £318,000 is being channelled into the much anticipated work, with £213,000 provided by DAERA, £75,000 from Council and £30,000 allocated through the Department for Community's Regional Access and Inclusion Capital Grant Programme, facilitated by DCSDC's Access and Inclusion Project which aims to promote inclusion and accessibility to active recreation venues.
Work will begin on site this Spring, and Mayor Tierney said it would provide much needed new facilities for families in the Eglinton area.
"This is fantastic news for the Eglinton community and I know the park will once again become a vibrant and popular place for young children to enjoy the outdoors," he declared.
"I want to thank the Departments for their commitment to enabling the delivery of state of the art facilities that promote both mental and physical health and wellbeing.
"The pandemic has taught us all the value of our outdoor spaces and recreation facilities, and this will provide a safe and happy environment for families to socialise and play.
"The recent audit of Council's district playparks revealed a significant gap in rural play provision so I am particularly pleased to see this project progress, and this vital facility will go some way to addressing this deficit as part of Council's play plan.
"It will be an important resource for the entire community promoting health and wellbeing and most importantly bringing smiles to the faces of local children."
The park area will make the most of the natural environment with play equipment located among grass areas, new tree planting, seating and picnic benches to provide quieter areas to play and socialise.
The plans reflect the priorities detailed in Council's Green Infrastructure Plan, which focuses on utilising natural spaces to provide environmental, economic and social benefits.
Once completed the park will offer a diverse range of new features including a wheelchair accessible multi-unit with different levels, towers, sensory panels, slides and climbing nets etc, a ground flush roundabout, ground flush trampoline, a selection of swings for different ages and abilities including a pendulum swing and a zip line (especially catering for older children).
There will also be a toddler area with a mini multi-unit, toddler swings and springers opening up the facility for families with younger children.
Welcoming the news, Chair of the Derry and Strabane Rural Partnership (LAG), Alderman Graham Warke. said:
"I am delighted to see this project moving forwards, it's a much needed positive development for Eglinton and the surrounding rural area.
"We are all aware of the deficit in facilities in our rural areas, but this is part of Council's wider strategy to identify and address need in these more remote areas.
"I am confident that the commitment to improving infrastructure and facilities will continue to drive the social and economic change needed to transform our rural communities."
Debbie Caulfield from Eglinton Community Association said: "The playpark here in Eglinton is a great hub of activity and it will be fantastic to see the facility enhanced and developed to make it more accessible for children of all abilities.
"Quality play facilities should be available for everyone and the new equipment will ensure that children of all ages can have a safe and enjoyable play experience without having to travel to other areas."
Tags: