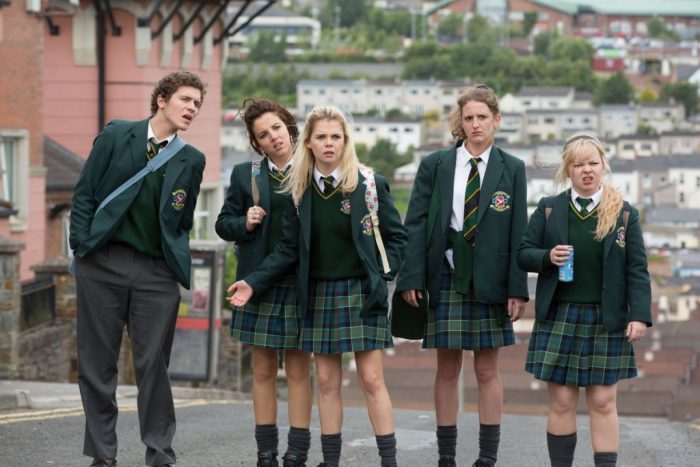 DERRY Girls has been put on hold because of the number of extras needed for filming.
That's according to veteran actor Ian McElhinney, who plays Granda Joe on the hit Channel 4 show.
While Peaky Blinders and Line of Duty both got back to filming, the stars of the comedy written by Derry native Lisa McGee aren't expected to be back on set until autumn.
The Belfast actor said: "We certainly are intending to get back to Derry Girls but the only problem is how long it's going to take.
"We were supposed to film Derry Girls back in May of last year.
"At the moment the talk is that we will probably shoot it in the autumn of this year.
"I know with Derry Girls one of the stumbling blocks was the number of extras we might need. The amount of what we have to do with extras.
"While you may be able to control the movement of actors and how to kind of isolate them, when you start bringing in extras on any sort of significant scale then you run into issues.
"So, that was certainly one of the things that interrupted our working on Derry Girls at the time."
The second series aired in March 2019 and while getting older isn't a concern for 72-year-old Ian, he says the problem is as time goes on, it's harder for Saoirse Monica Jackson (27), Jamie Lee O'Donnell (29), Nicola Coughlan (34), and Louisa Harland (28) to pass as 16-year-old schoolgirls.
He explained: "That's a long gap and slightly more critical because the girls are Derry Girls and the girls are far from being girls anymore.
"That doesn't really matter because if you're accepted as a granddad then you can carry on being a grandad.
"I'm finding whether I like it or not that I've already been a grandad for a few years now, it's my reality."
Ian, who was most recently seen in BBC's Bloodlands, is hard at work in Bristol working on Stephen Merchant's new BBC and Amazon show, The Offenders. The show also stars Eleanor Tomlinson, Christopher Walken and Darren Boyd, who plays Ian's character's son, John.
Admitting he misses the camaraderie on set due to Covid guidelines, Ian added: "It's weird because you go over there and go into a hotel where the bars are closed and the sitting area is closed.
"So there's no public area, where you can meet anybody. So you live in your room.
"You get your meals to your room and you get your drinks to your room.
"So even if you're working with people on set, you can't see them when you come off set, and you're in a hotel.
"You can't even say well 'let's have a pint after a day's work', 'let's have a chat.'
"It just doesn't happen so it's a very anti-social sort of world we're living in."
Tags: