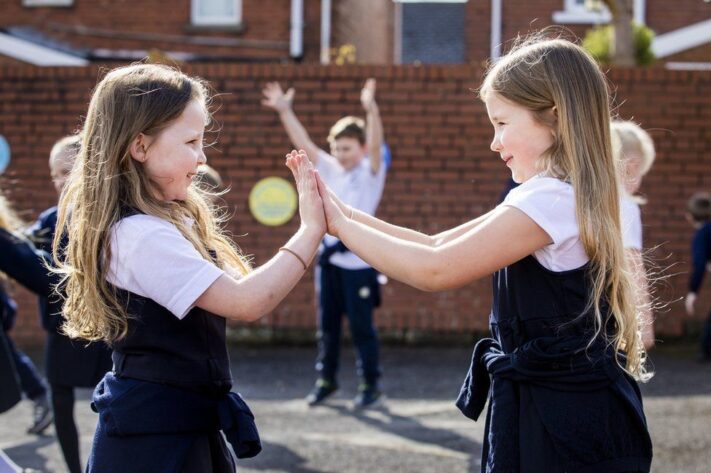 PRIMARY school pupils in years P4 to P7 could return to the classroom on March 22 if the Stormont Executive backs a proposal by the Education Minister.
Peter Weir will recommend the move when ministers review restrictions later today, March 16.
He will also propose the return of face-to-face learning for all primary and post primary pupils by 12 April.
It is understood ministers will also discuss calls to allow up to 10 people from two households to meet for some outdoor activities, such as golf.
If the proposal is agreed, it could see the return of golf from Thursday, April 1, although golf clubhouses would remain closed.
There is also a plan to allow limited sports training for up to 15 people after Easter.
In retail, there are proposals to allow businesses to open up more click-and-collect services, which would mean greater flexibility for people who run garden centres and plant nurseries.
Ministers will also discuss testing international travellers who come into the North of Ireland from a so- called red list of about 40 countries.
Tuesday's meeting will see the Executive's first formal review of the regulations, which have been in place since December.
A new lockdown came into force across the North of Ireland at 00:01 am on Boxing Day, December 26, in a bid to suppress the spread of Covid-19.
It was the third time the Derry City and Strabane District Council area had gone into lockdown.
Its second lockdown started on October 5 after a huge spike in cases across the council area.
Figures released yesterday for Sunday reported 11 new cases witin the council boundary but no further deaths.
There have been some recent adjustments to the rules but households are generally still not allowed to mix indoors.
Pubs, cafes and restaurants remain closed except for takeaway, and most shops are shut.
The Coronavirus infection statistics are going in the right direction.
Infection rates are down, there are fewer people in hospital, and while there have been days when the number of deaths has risen, the death rate remains relatively low.
There were 121 new cases reported for Sunday across the North of Ireland with one further death..
Added to that is the ongoing rollout of the vaccination programme, with people aged 50 or over now being able to book an appointment.
Earlier this month, ministers published the plan for easing the lockdown in Northern Ireland.
Unlike plans announced in England and Scotland, the blueprint does not include a timetable.
In the North of Ireland, P1 to P3 pupils returned to the classroom last Monday, March 8m, as did nursery and pre-school children.
Last week, the Executive ditched a previous plan for those pupils to go back to remote learning on Monday, March 22, when some secondary schoolchildren, year groups 12 to 14, are due to return to school.
Mr Weir wants all remaining primary schoolchildren to go back to school on March 22 and all remaining secondary pupils to return after the Easter holidays on Monday, April 12.
Vulnerable children and children of key workers have had access to schools for supervised learning since January, and special schools remained open as usual.
Schools in England, Scotland, Wales and the Republic of Ireland have all reopened on a wider basis.
Speaking at Stormont on Monday, Mr Weir said he would push for a full return to the classroom "as soon as possible".
"It is important that we bring a level of certainty," he said.
"From an academic point of view, from where families are at, but also from the point of view of the mental health and well-being of young people, it is critical that we get that return to face-to-face teaching as soon as is practically possible."
Meanwhile, staff in post-primary schools and pupils in years 12 -14 are to get twice-weekly lateral flow tests from 22 March.
Mr Weir said that after the Easter break the programme would expand to include all primary school staff.
Tags: