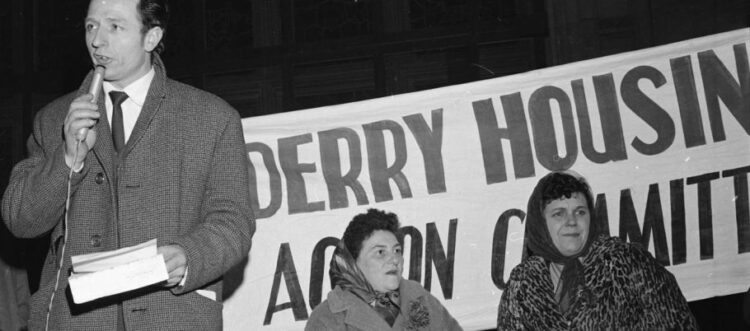 LOCAL people are being asked to contribute to a new online exhibition exploring the issue of workers' rights and social justice as part of Derry City and Strabane District Council's WR&SJ Week programme for 2021.
The call out has been issued by Council's Museums Service as they prepare to launch the programme of events planned for Workers' Rights and Social Justice Week running from April 26 – May 1st which will be held virtually due to ongoing Covid restrictions.
Any artefacts or items which relate to trade unionism, civil rights and social justice are welcome as well as modern, contemporary artefacts.
These will be included in an online exhibition on the Tower Museum collections website.
Mayor of Derry City and Strabane District Council, Councillor Brian Tierney, said "Here in the North West we have a strong connection with the civil rights movement and the fight for social justice.
"In recent months with the ongoing health crisis this issue has come to the fore once again, with many people now in a position where they are questioning their rights in the workplace.
"Derry and Strabane Council is committed to protecting and promoting the rights of local workers and has acted upon establishing itself as a Living Wage Employer.
"It has also supported other motions in relation to Welfare Reform and more recently Social Value Policy, so this exhibition is very timely in looking back at how far we have come and how change has been achieved.
"The museum already boasts a fascinating archive in relation to charting the path of the Socialist, labour and trade union movements so I'm looking forward to seeing what this call out will yield in terms of new artefacts of historical interest."
The themes for this year's programme are history, education and increased access for communities, and a number of online events will also be taking place.
Roisin Doherty, Curator with the Tower Museum, said she looked forward to unearthing some new artefacts to help tell the full story.
"We are hoping the call out will uncover more items which will tell the story of the evolution of workers' rights here – these can be older artefacts linked to trade unionism/civil rights and social justice as well as more modern artefacts.
"The museum already has quite an impressive collection of archive materials from the Trades Union Council, the Bridget Bond, Gerry Lynch and the Paul McLaughlin Collections all of which help chart the history of the movement here.
"It would be fantastic to see what other stories are yet to be told which will enhance our understanding of the issue."
The programme will feature a number of talks focusing on some of the key figures involved in the trade union movement including James Larkin, James Connolly and Michael Davitt.
There will also be a special focus on women's rights highlighting the role of Sarah O'Doherty and other key figures as well as the role of the Shirt Factories in progressing women's rights in the workplace.
Anyone who would like to feature any items in the online exhibition during Workers Rights and Social Justice Week can contact the Curator, Roisin Doherty at collections@derrystrabane.com
Tags: