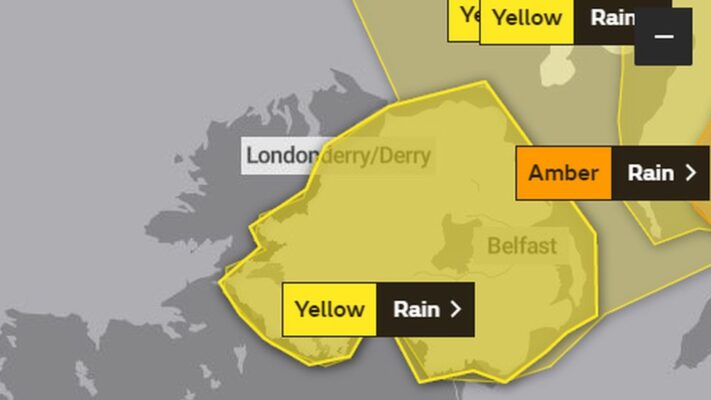 THE Met Office has issued warning of wind, rain and a risk of flooding in the North of Ireland on Tuesday.
A yellow warning for rain is in place from 3 am until midnight.
There could be gusts in excess of 60mph (97km/h), particularly towards the east coast and there is a risk of surface-water flooding.
In spite of the wind and rain it is expected to be a very mild day, with temperatures between 12C and 14C.
Travellers have been warned to expect in places due the strong wind.
The Fire and Rescue service warned people that if they did have to travel, to "please be careful on the roads, slow down and expect the unexpected."
The Stormont agriculture department has advised the public not to visit forests, country parks or nature reserves due to the risk of falling branches and debris.
Public transport provider Translink will be posting any delays due to bad weather on its Twitter account.
There have already been reports of fallen trees across the North of Ireland due to strong gusts of wind.
People affected by flooding can call the Flooding Incident Line on 0300 2000 100.
NIE Networks, which operates the electricity network, said that if power is affected or if anyone sees any lines or poles broken people should stay clear and contact them immediately on 03457 643 643.
The gales subside for Tuesday evening and overnight.
It is expected to be a mild night with temperatures between 7C and 9C
Tags: