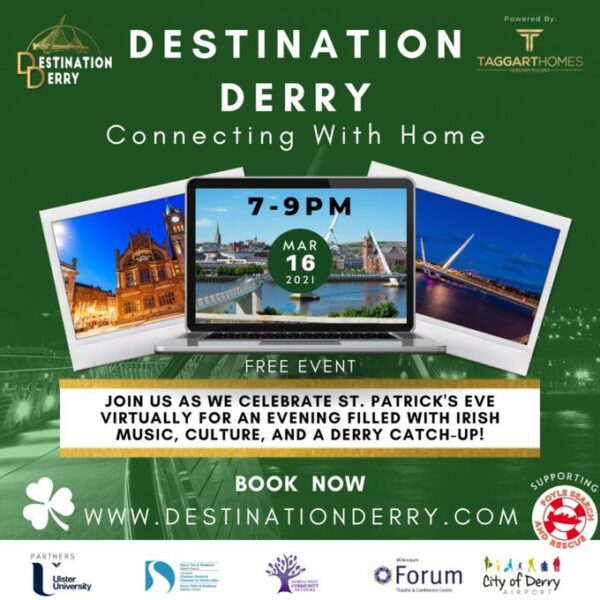 ANOTHERr St. Patricks day without local or global celebrations and the Irish community coming together to connect and celebrate as only they know how.
This year Destination Derry and friends want you to Join with them as they celebrate St Patrick's eve virtually, an evening filled with friends, "Home", Irish music, culture and a Derry catch up!
The event Destination Derry – Connecting With Home will take place virtually on Zoom on St Patrick's Eve March 16th from 7.00 pm – 9.00 pm
With an opportunity to network with others worldwide in the Destination Derry – Connecting With Home breakout zoom rooms this is a great opportunity to celebrate a unique St. Patrick's eve event.
Destination Derry (a not for profit collaborative community project powered by Taggart Homes) and partners are hosting a free, virtual, celebration to connect Derry people from all over the world with their local Derry community. A chance to make connections, reminisce and celebrate together while being apart. The event will also offer an opportunity to Foyle Search and Rescue to share their story and how all of us can help them in the great work that they do.
Many of our family and friends were unable to make it home for Christmas and future plans are uncertain.
Destination Derry have partnered with others across the city and county to create an opportunity to meet online and experience a St. Patrick's event that will be a nostalgic reminder of home, a destination that they will hopefully be able to return to very soon.
Partnering with Ulster University, Derry City and Strabane District Council, the Millennium Forum, City of Derry Airport, the North West Community Network and Taggart Homes to host a St. Patrick's Day event that is reflective of the times we are living in.
What can you expect?
Destination Derry – Connecting With Home
Learn more about Destination Derry an initiative to promote Derry city and county as a great place to Live Learn Work and Visit delivered by Michael Taggart.
Message from Brian Tierney Mayor of Derry City and Strabane District Council
Memories from home – nostalgia and local memories to bring you virtually to the heart of Derry.
Entertainment by Ulster University students and a chat with a graduate from the Magee campus, now pursuing a career on the global stage.
Looking Back Moving Forward a nostalgic photo and video exhibition of St. Patrick's event from other years.
What's happening in Derry right now – the growth.
Our business partners discuss "Their Derry" their memories, the future and what's ahead. An intimate conversation with those who chose Derry as the location to set up their business, or place of work and how they reflect on their life in this special part of the world.
Opportunity to network with others worldwide in the Destination Derry Connecting With Home breakout zoom rooms.
This past year has been extremely tough for many and has brought about a new way of working, living and interacting, so although we can't be together in person this St. Patrick's Day, we can use this opportunity to come together online and celebrate all that Derry means to us, at home and abroad.
For more information and join the virtual St Patrick's Day Eve event click on this link: https://destinationderry.com/virtual-st-patricks-celebrations-with-destination-derry-and-friends/
Tags: