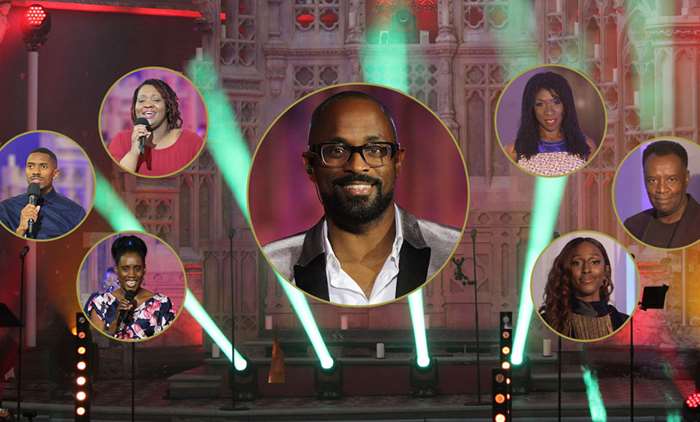 A meeting between DUP MP Gregory Campbell and a number of ethnic minority organisations has ended, with one saying he is "unable to acknowledge or identify racism".
The groups met with the East Derry MP after his comments about the number of black people on an edition of Songs of Praise.
He said the programme was "the BBC at its BLM (Black Lives Matter) worst".
Mr Campbell later said he would not withdraw or apologise for the remarks.
The MP said his social media post was directed towards the BBC.
"Why would I apologise for criticising the BBC who say they're all in favour of inclusivity, and then broadcast a programme that wasn't.
"Why would I do that? It wouldn't be appropriate."
On Friday, Mr Campbell met with representatives from United Against Racism, the Belfast Multicultural Association, Belfast Islamic Centre, Ethnic Minority Sports Organisation NI (EMSONI), IassistNI and the North West Migrants Forum.
Lillian Seenoi-Barr, from the North West Migrants Forum, said they had gone "into the meeting with no expectations and we were not disappointed".
"We never expected him to apologise but we expected him to understand the damage his comments caused and we feel that he has – but he doesn't comprehend why.
"After the two-hour meeting we had with him, we are convinced that Mr Campbell is unable to acknowledge or identify racism; and the fact that, far from just sticks and stones, racism can take a real and lasting toll on individual lives and communities."
Ms Seenoi-Barr added that the MP had "acknowledged the importance of dialogue" and also "agreed to meet with groups again on a one-to-one basis to talk about racism".
The DUP MP made his comments in a Facebook post on 31 January.
In the post, the East Londonderry MP wrote: "There were five singers, all of them black. There were three judges all of them black and one presenter who was incidentally, yes black.
"The singers were all very good but can you imagine an all white line up with an all white jury and presented by a white person? No I can't either," he said, adding that it was "the BBC at its BLM (Black Lives Matter) worst".
A number of anti-racism and ethnic minority organisations in Northern Ireland called on Mr Campbell to apologise and withdraw the remarks, while Sinn Féin's Caoimhe Archibald reported the comments to the standards commissioner at the House of Commons.
On Monday, Mr Campbell said he was opposed to racism "in all its forms" and that his comments were "intended to increase multi-cultural diversity, not single identity approach which is what that edition had".
"There wasn't a single white person involved in any way on screen," he said.
"If there wasn't a single black person, the same principle would apply.
"In most editions there is a diversity. There wasn't on this occasion. Is someone going to try and dispute what the edition had? It didn't have diversity."
David Grant, one of the judges in the Gospel Singer of the Year competition, said Mr Campbell's view was "uninformed" and that he would say "his opinion's bigoted, unless he has a history of equally complaining that there weren't any black people on a programme".
Asked about Mr Campbell's post in the NI Assembly, DUP leader Arlene Foster said it was "not a sentiment" she identified with and insisted her party was "totally and absolutely committed" to racial equality.
Mrs Foster has also agreed to meet with the North West Migrants Forum over the race row.
Tags: