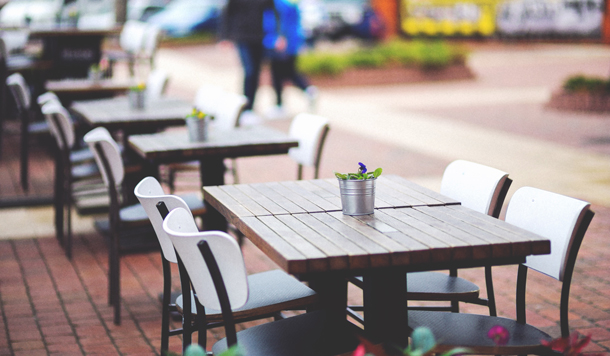 MEMBERS of Derry City and Strabane District Council's Health and Community Committee have approved plans to relax conditions around the process of applying for pavement café licensing, to assist the hard hit hospitality industry.
They supported the recommendation by officers to extend the period during which an application may be made for a pavement café licence, free of charge, until 31 August 2021.
They also approved the extension of the licence period of existing pavement cafe licences, with a new expiry date of 31 March 2022.
The move will assist local cafés and restaurants who wish to provide outdoor seating for customers once premises are allowed to reopen when the current Coronavirus restrictions are lifted.
It will help facilitate outdoor dining providing more space for customers in a safe outdoor location, and allow premises to better accommodate the recommended health and safety measures including social distancing.
At the meeting members were told by Council's head of Health and Community Wellbeing, Seamus Donaghy, that the move would both reduce costs and help businesses rebuild customer confidence.
He stressed to the committee that the periodic, enforced closure of hospitality premises and the need for social distancing had the potential to threaten the viability of some businesses serving food and drink in or from their premises.
He also highlighted that the £460 application fee for the grant of a pavement café licence may have deterred hard hit businesses from making an application.
The move is part of Council's wider campaign to assist the recovery of the local economy post Covid19, with a number of measures being explored to transform town and city centres making them more accessible with a strong focus on the improvement of outdoor space.
Council is currently embarking on a public engagement process to gauge views on its pilot streetscape proposals supported by the Department for Communities through the Covid-19 Recovery Revitalisation Programme.
The Health and Community committee pledged to continue to consider all options to rebuild the local economy during the difficult weeks and months ahead.
Speaking after the meeting Chair of the Health and Community Committee Alderman Darren Guy, said: "This is a very positive move which I am sure will be welcomed by the local hospitality industry which has been hardest hit by this pandemic.
"I would encourage any business considering the option of outdoor seating to contact our licensing department and to go through the proper channels regarding installation.
"While we still have a very long way to go before a return to normal life is possible, it's important that we as a Council, working with our local town and city stakeholders, take a proactive role in ensuring that we have prepared the way for a safe and speedy return to business at the earliest opportunity."
In June Council had introduced a temporary Pavement Café Licencing scheme/consultation process, waiving all fees associated with granting a licence for a period of six months, to be reviewed by January 2021.
Since introducing the scheme on 1 July, Council has received a total of 31 applications for pavement café licences. To date, 14 pavement café licences have been issued and officers are continuing to work with applicants in relation to 10 ongoing applications.
For more information go to: https://www.derrystrabane.com/Licensing
Tags: