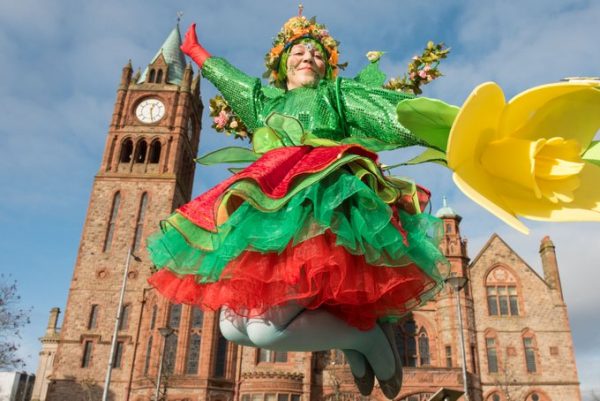 DERRY City and Strabane District Council has decided to cancel next month's St Patrick's Day street carnival due to the Coronavirus pandemic.
The news was outlined by council officials to elected members on Tuesday night during a revised delivery of plans for Festivals and Events for the forthcoming spring and summer period.
It will the second year in a row that the festival has been cancelled because of COVID-19.
But the council is currently drafting plans for a return to the magnificent Halloween festival in October in the hope restrictions will be eased by then.
An extensive and exciting animation entitled "Inside Out" and digital content programme, that will accommodate COVID restrictions but take into account the economic needs of the business community and the enjoyment and well-being of the wider public, will be rolled out over the spring and summer months.
In a detailed paper to members of the Business and Culture Committee this week, Aeidin McCarter the Head of Culture with the Council, outlined to members the challenges facing Council in programming festivals and events in the current climate of uncertainty.
She said teams within Council have been working to look at creative solutions to the situation and they were confident they can deliver some level of activity and animation over the spring and summer months.
She outlined details of an Inside Out Visual Arts Programme to be rolled out from March, to create a multi-dimensional and vibrant programme of activity across the Council.
Councillors were told the programme will include an opportunity for visual artists and cultural organisations to create exhibitions, displays, installations and exhibitions that can be experienced and enjoyed outside, whilst adhering to COVID regulations.
She said the visual arts programme will be complemented by an Inside Out Street Animation and Music Programme, that will see music and static animation in city and town centre locations for a series of afternoons and evenings during the spring and summer months. Commencing from March, it is hoped the programme will greatly enhance the experience for those visiting shops, restaurants and bars.
Key to the success of the animation and visual arts programme will be to link it in with the ongoing work being carried out to create a holistic and strategic programme to generate business and economic recovery.
She said teams within Council are working with key stakeholders to bring artists and businesses together to help with the regeneration of the city and town centres across the Council area.
Speaking specifically in relation to this year's St Patrick's Day Carnival, Aeidin McCarter informed elected members that restrictions are not expected to be lifted significantly to allow for a full St Patrick's Day Carnival programme in its usual format.
However, an exciting artist led arts programme led by the NW Carnival Initiative entitled – "Imagine That… " will be rolled out.
It will include online content, including tutorials and webinars and a range of neighbourhood focussed activity that will be complemented by static animation and city and town centre located creative installations and pop up displays.
Members heard how this year will mark the 20th anniversary of the City of Derry Jazz Festival and that plans are in place to bring jazz music to life in the streets of the city alongside roaming jazz musicians and jazz themed animation, that will be delivered in a safe way and in accordance with any restrictions in place at that time.
She said officers are also exploring the possibility of small-scale ticketed events and jazz masterclasses and, if permitted, would be delivered on the ground with the option of being delivered digitally.
This year's festival will include a digital programme featuring local artists who have been involved in the festival since its inception, who will tell the story of the festival and how it has grown from an initial audience of 5,000 to attracting over 70,000 visitors to the city each year.
Other elements of the festival being proposed include an outdoor Visual Art Jazz Exhibition trail and a festival award and jazz bursary scheme.
It was outlined to members among the events recommended not to proceed this year as a result of the ongoing pandemic are the North West Angling Fair, the Strabane Lifford and Waterside Half Marathons.
While the Summer Jamm is not likely to be able to proceed in its usual format, members were informed that the Inside Out animation programme will be rolled out to bring some activity and animation.
In relation to the 2021 Halloween celebrations in Derry and Strabane, Aeidin McCarter explained that officers are tentatively drafting a programme plan.
She said discussions have commenced with partners including the NW Carnival Group, regarding what format it could take and whether or not large scale events and crowds will be permitted. She said officers will continue to monitor the situation and an updated report with more detail will come before members at a later date.
Members were reminded at the meeting that this year marks the 1500th anniversary of the life of St Colmcille and that as a result of the pandemic the celebrations have been rescheduled to take place in and around 07 December. Council is currently working with Donegal County Council and a number of cultural organisations to draft and deliver a commemorative event.
Members were also advised that ongoing discussions with Clipper Ventures regarding any future visit of the current or future Clipper Round the World Races, are continuing and an updated report will come before members.
Welcoming the report, the Chairperson of the Business and Culture Committee Cllr Rory Farrell said that while it was disappointing that festival and events are unable to go ahead in their usual format, he was delighted to see Council being creative and flexible in their approach and successfully readapting the formats to ensure some of the events can be delivered.
He paid tribute to the various officer teams across Council working in such difficult and challenging circumstances to ensure the majority of events that can go ahead, do so in a safe environment.
"It is hugely important that despite the restrictions, challenges and impact of COVID that we continue to place Festival and Events high on our agenda for delivery. Our city and region is renowned for its events and we are very much aware the positive impact they have on the city and region. I welcome the fact that Council is looking at creative and innovative ways to deliver these events and are engaging with the local arts sector, who have been hugely impacted by the pandemic, to help ensure we retain our reputation as the home of great events."
Tags: