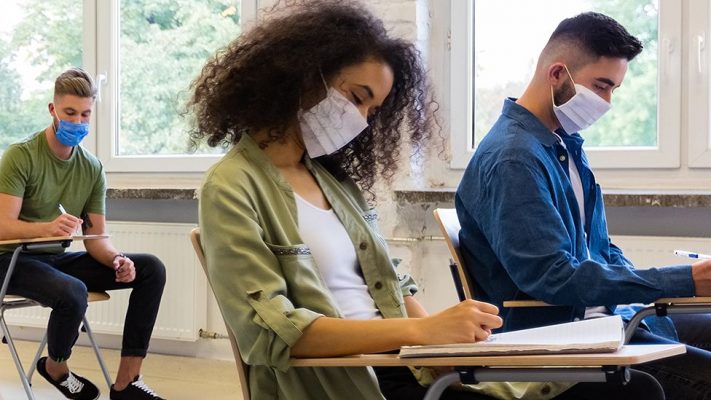 ALL BTec and other vocational exams scheduled this year in the North of Ireland have been cancelled.
The move will affect tens of thousands of students at schools and further education (FE) colleges.
Economy Minister Diane Dodds, who is responsible for the qualifications, said it was neither "sustainable nor fair" to continue with exams.
All GCSE, AS and A-level exams had already been cancelled by the Department of Education.
But the Department for the Economy oversees BTecs and essential skills qualifications.
BTecs are vocational and technical qualifications equivalent to GCSEs and A-levels and are taken by many students in schools and colleges.
Some of those exams had been scheduled for February and March but will not go ahead and neither will assessments planned for May or June.
It is not clear yet what alternative awarding arrangements will be in place.
But the economy department said Mrs Dodds had instructed the examinations board CCEA to put "suitable" arrangements in place that reflected this year's circumstances.
She said she expected clarity from awarding organisations as "early as possible" in March.
The minister also said essential skills exams would be replaced with a "teacher judgement approach" and that a short transition period would mean some on-demand exams could take place up to the end of next month until new arrangements were in place.
There were 76,670 students across Northern Ireland's six further education colleges in 2018-19, the majority of whom take courses on a part-time basis.
Mrs Dodds said she wanted to assure students that results they receive this year would have the "same standards and recognition as any other year".
She added: "There are a range of qualifications that demonstrate occupational competency, such as licence to practice, and I have requested that suitable assessment adaptations are put in place in a similar manner to last year.
"Where this is not possible, assessments may need to be delayed given public health and safety considerations."
The president of the students' union the NUS-USI said the decision gave "certainty" to students" but said it had taken too long.
"Regulators and awarding bodies must now take the views of students into consideration when planning alternative assessment arrangements," said Ellen Fearon.
"Students have experienced significant disruption this year and are facing ongoing financial stress, digital inequality and mental health problems.
"It is imperative that the government invests significant resources in supporting students, otherwise these problems will have long-lasting effects."
There had been "very real anxiety among our student population", said Ken Webb, the chair of the Further Education College Principals' Group.
He said the principals would work with the economy department and CCEA to help pupils "progress to higher and further education or employment at the end of this academic year".
Tags: