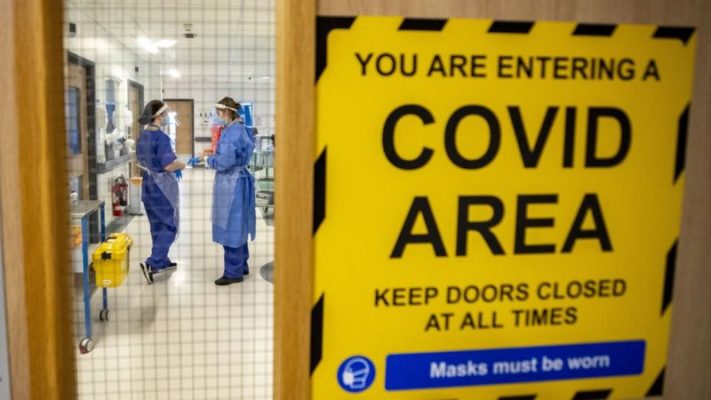 MEDICAL staff are expected to "face pressures unlike any other they have faced before" as the North of Ireland approaches its toughest week so far in the Coronavirus pandemic.
The British Medical Association has said while its doctors are "coping", many feel they are unable to give care to the "standard they would want".
The peak in intensive care is predicted to happen next weekend.
Yesterday, the Department of Health reported a further 21 deaths and 822 positive cases in the previous 24 hours.
The head of the BMA in NI, Dr Tom Black has been critical of the way this wave of the pandemic has been managed.
The Derry-based GP said: "Staff will do their best in a very difficult situation, where many decisions in this pandemic were made too late."
While it is expected the number of hospital admissions will peak sometime over the next eight to 10 days, the number requiring intensive care treatment is likely to continue increasing for at least another fortnight.
Dr Black said he was concerned for both patients and staff.
"Many of our members are deeply worried about the coming weeks.
"We have already seen the health service come under pressure recently with calls for additional staff to voluntarily come into work, but is likely that over the next few weeks doctors will be asked to work in a new location or provide support to areas that are very overstretched.
"Many have already had planned annual leave cancelled.
"Speaking to members I know they will as always do their best for patients, but many of them have told me that they are already exhausted and deeply demoralised.
"In a recent survey of BMA members in Northern Ireland 47% of them said they were coping but were unlikely to be able to continue indefinitely, 46% said they were not able to give care to the standard they would want and 65% anticipated that their workload would increase significantly in this second wave.
"The pressure we are under at the minute is widespread and we are likely to see whole system issues over the next few weeks where it is not just one doctor or nurse struggling but the whole team who will be jointly facing challenges and trying to overcome obstacles.
"Health care workers will do their best in a very difficult situation, where many decisions in this pandemic were made too late.
"I have no doubt that when we come to review the way we have handled the pandemic this phase will stand out as one where we could have planned better.
"We are reissuing information to members today [MONDAY 18 January 2021] about ethical decision making in the event that doctors are having to consider prioritising patients for treatment.
"This is not something that any doctor would want to actually do, but we need to make sure they have tools and information to help them make those decisions.
"We have also co-signed a letter to the Health Minister asking for emergency legislation to be put in place that will protect doctors and nurses from 'inappropriate' legal action when dealing with circumstances outside their control."
Dr Black added that there is "no doubt the news about the vaccines and the rate at which they are being given out here is good news but I would strongly caution against people seeing this as a silver bullet".
He said: "People need to get a second dose before they have optimal immunity and COVID-19 is still highly prevalent in the community.
"There seems to be a sense in some quarters that 'it's all over' but that is very much not the case."
Meanwhile, the Department of Health announced on Sunday all travellers who have returned from Portugal or transited through 16 South American countries in the past 14 days will have to – along with their household – self-isolate for 10 days upon return to Northern Ireland.
This includes travellers who entered these countries en route to another destination.
All travellers returning home from South America are advised to be tested, whether or not they have symptoms.
From Thursday, all international travellers will be required to present a negative Covid-19 test result before arriving in Northern Ireland.
This rule comes into effect in England, Scotland and Wales on Monday.
The past week saw hospitals across the North of Ireland coming together in order to cope.
On 10 January, the Southern Health Trust was on the cusp of declaring a major incident amid the mounting pressures across the health service.
That was avoided as many off-duty staff answered a call to come into work and the health trusts pulled together to provide a regional response to the crisis.
Patients were diverted to those hospitals which could take them and where infrastructure could cope with supplying additional oxygen to the very ill.
Tags: