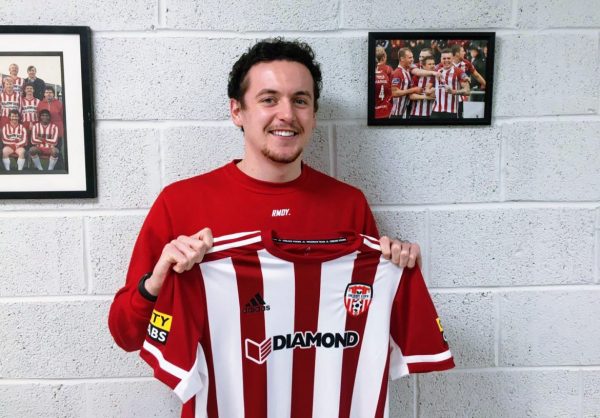 DERRY City FC say it is delighted to announce the signing of David Parkhouse who has joined the club on a three-year contract.
City supporters will be well aware of how significant this signing is given David's form during his loan spell at the Brandywell in 2019.
He bagged 19 goals in 39 appearances- helping the team to qualify for the Europa League before returning to Sheffield United at the end of that season.
'Parky' was subsequently given a new 2-year contract by the Blades before going out on loan to Stevenage and then Hartlepool United.
City manager Declan Devine was on the ball very quickly once the opportunity arose to speak with the striker and although he had to be patient, the Derry boss finally got his man.
"I'm delighted to be bringing David Parkhouse back to this club and I'm especially pleased that the player is happy to commit himself to Derry City for at least the next three years.
"We've made no secret of the fact that we want the players who come here to know the club, know the league and be a good fit for Derry City and David brings that in spades.
"Everybody at this football club knows what 'Parky' brings to the team. He has a real energy and tenacity in his approach to the game. He is well got by the players already here and it will be the same with new players coming in.
"It was clear in our discussions with him that he wants to strive to get better and that is something we intend to do as a whole club.
"This is where David wants to play his football. He loves the club and we love having him here.
"We now have Nathan Gartside, Danny Lafferty, Ciaran Coll, Jack Malone, Eoin Toal and Ronan Boyce on 2 year contracts and David on a 3-year deal. It's definitely a statement on the direction we're looking to go."
Parkhouse himself was delighted to be returning to the Brandywell and said he couldn't wait to get started again.
"I couldn't be happier to have finally got it all sorted," he said.
"I had a number of offers and things to consider but this is my hometown club. I love the place to bits and was actually devastated to have to leave in 2019.
"I trust in what Declan and Paddy are looking to do here 100% and I want to be part of that. It's why I've signed for at least 3 years.
"The club is ambitious and wants to move forward and I'm the same. I can't wait to get out there and get started."
It's been a busy few days at the Brandywell but things are certainly looking up for City supporters with the promise by the club of more to come over the next few weeks.
Tags: