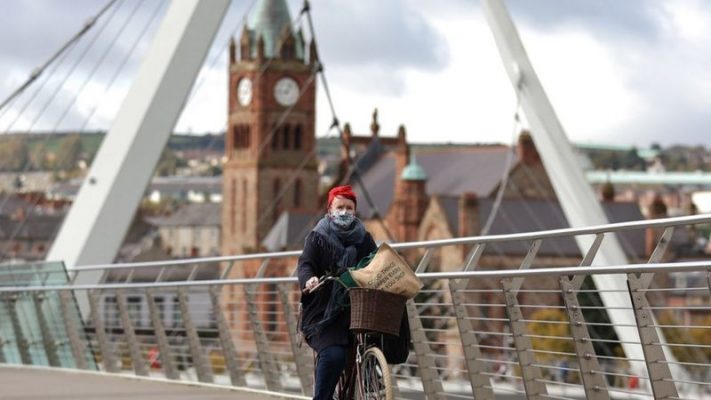 A fall in the North of Ireland's rate of Covid-19 infection has been achieved by many people "doing the right thing", Arlene Foster has said.
But the First Minister said she was concerned by reports of some employers not adhering to the "stay-at-home" order for staff.
Earlier, ministers also discussed a potential crackdown on larger retailers selling non-essential items.
The first minister said that was a "selfish spirit" which would not help beat the virus.
Stormont's first and deputy first ministers were appearing in Dungannon, County Tyrone, at their first joint press conference in more than a month.
Their comments came as a further 1,205 cases of the virus were reported by the Department of Health on Tuesday.
Twenty-two more people have died with the virus, taking the department's total number of deaths to 1,498.
There are 785 people in hospital with Covid-19, 55 are in intensive care.
The reproductive rate of the virus – known as the R rate, measures the infection rate of Covid-19 and had risen to about 1.8 due to Christmas relaxations.
But it has now fallen "significantly", according to the Chief Scientific Adviser Prof Ian Young.
The first and deputy first ministers will meet the PSNI Chief Constable Simon Byrne on Tuesday evening to discuss enforcement of the coronavirus laws.
Michelle O'Neill, NI's Deputy First Minister, said there would also be an "urgent roundtable" with the retail sector to reinforce the need to "comply with the spirit and letter" of the restrictions.
"Adherence will get us through this difficult period," said Ms O'Neill.
Northern Ireland is in the third week of a six-week lockdown, with many sectors forced to close.
People have also been told they should only leave home for exercise, food and medical needs or if they cannot work from home.
Mrs Foster said the evidence provided to ministers showed that the restrictions were working, and she paid tribute to the public for complying.
"It's people choosing to Facetime and phone friends rather than visiting, it's doing one big shop and not nipping out every day, doing the best job you can at home and not going into the work place when you don't have to," she added.
Earlier, Prof Young said the North of Ireland had passed the peak in terms of new cases of Covid-19 for this wave of the pandemic.
But he warned: "We still have a long way to go and the number of cases we are seeing each day is still averaging well over 1,000 cases a day – which by any measure in the course of the epidemic represents a very high level."
He said he expects the number of hospital inpatients to continue to rise "until some time in last two weeks in January".
Prof Young said he believed that the current restrictions are "sufficient" for the moment, if people stick to them.
The North's chief medical officer Dr Michael McBride said it was estimated that on average about one in 60 people have Covid-19 here.
He said the rising number of cases was a "payback" for the relaxation of restrictions in December.
New lockdown restrictions came into force in Northern Ireland on Friday 8 January, meaning people can only leave their home for essential reasons.
Prof Young said while compliance with the stay-at-home order was better than it was at the start of December, it was still not as good as it was in the first lockdown in March.
Tags: