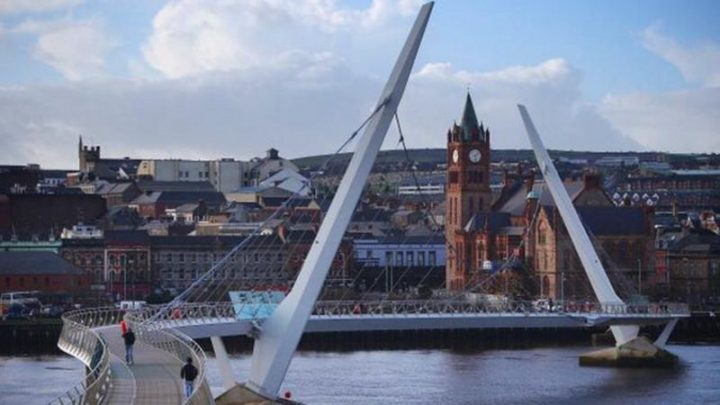 DERRY City and Strabane District Council is today launching a COVID Reassurance Mark aimed at supporting local businesses and re-instilling confidence among the public to return to town centres and support the local economy.
Derry and Strabane had been in lockdown since October 5 after a huge spike in cases and o
The scheme is part of the Council's ongoing economic recovery and revitalisation plans and involves Council's business and environmental health teams, providing support and advice to businesses in relation to the public health controls required to maintain public health and minimise community transmission of Coronavirus.
Businesses across the Council area will be encouraged to take part in the self-declaration process, upon successful completion they can display the COVID Reassurance Mark on their premises.
This initiative is being rolled out City and District wide to businesses within the tourism, hospitality retail and close contact sectors.
It's primarily focused on boosting customer confidence by demonstrating that the businesses local people are visiting are taking proactive steps to keep their customers and staff safe.
Launching the scheme, Mayor of Derry City and Strabane District Council, Cllr Brian Tierney, said it was a really positive development and something that would support businesses in communicating to their staff and customers that Covid secure measures are in place via a risk assessment process.
Acknowledging the challenges faced by local businesses across Derry and Strabane, Mayor Tierney said the new COVID Reassurance Mark would hopefully assist them with their recovery plans.
He said: "We are very conscious of the fact that the last few months have been extremely difficult for all businesses across all sectors in our Council area.
"The challenges around the pandemic have had a huge impact on everyone and by setting up this initiative, Council has recognised the importance of supporting businesses in their efforts to adapt and adhere to current guidance.
"We firmly believe that the COVID Reassurance Mark will help instil a sense of confidence in the public that our businesses have risk assessed measures in place when they visit our retail and hospitality venues as these businesses reopen.
"The initiative also demonstrates the importance of Council working in partnership with the business community to restore and revitalise our city and town centres after such a difficult and challenging period.
"It is important we look forward in a positive manner and do all we can to support each other and showcase our resilience, strength and determination."
Kevin O'Connor, Head of Business with Derry City and Strabane District Council, says the scheme is part of a series of proactive initiatives the Council has been involved in with the local business community, city centre partners and the relevant government departments, to support and advise local businesses during this challenging time.
He said: "Back at the start of the pandemic the Council established a City and Town Centre Stakeholder group to look at the impact of the pandemic on our business community and put response measures in place.
"Council has been at the fore in providing a range of interventions including Covid workshops, one to one mentoring support and delivering Covid specific business grants.
"The Small Spend Makes a Huge Difference campaign and recent Council Shop Local Christmas initiative have also been rolled out with a strong emphasis on supporting local independent businesses this Christmas."
Seamus Donaghy, Head of Health and Community Wellbeing with Derry City and Strabane District Council, said: "Our local businesses have responded very positively to the Government regulations and guidelines and this scheme will help acknowledge their efforts.
"The scheme involves a five-step self-declaration of measures that businesses have taken in order to achieve the COVID Reassurance Mark including a risk assessment that comprises important elements such as cleaning, hand sanitising, social distancing, respiratory hygiene and employee health.
"Once businesses are satisfied they have met the criteria outlined in the self-declaration they can apply online to Council to display our Derry City and Strabane District Council Covid Reassurance Mark on their premises.
"The self-declaration process has been developed in co-operation with our Environment Health officer team."
A key element of the scheme will be a bespoke marketing and PR campaign around building awareness of the COVID Reassurance Mark to encourage businesses to sign up and to the wider public to look for the Mark when out shopping or socialising.
Mayor Tierney extended his thanks to everyone involved in the scheme and said he was confident it would prove beneficial and worthwhile to businesses, their staff and customers.
He added that the COVID Reassurance Mark sticker that will be displayed in participating premises will include contact details of the relevant Council teams that the public can contact should they have any concerns or issues.
For more information and details of how to apply go to: http://www.derrystrabane.com/Business/Covidreasurrance
Tags: