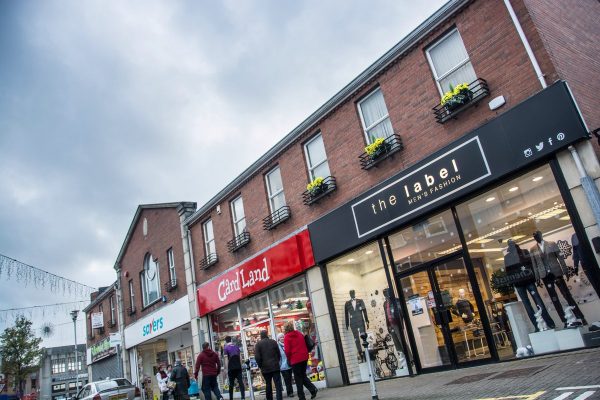 SHOPPERS in Strabane are to benefit from free off-street parking this weekend, as part of the wider campaign to promote the Shop Local message and support local business.
The parking holiday has been arranged by the Strabane BID initiative and sends a clear message that Strabane town centre is open for business and ready to welcome customers out to bag a last minute bargain.
Welcoming the announcement, Mayor of Derry City and Strabane District, Councillor Brian Tierney, said it was a very positive gesture in the run up to Christmas.
"This is just the latest initiative in a wider programme of support for our businesses who are very much relying on local custom at this time," he explained.
"This has been a prolonged period of unprecedented challenges for businesses across all sectors, but particularly retail and hospitality outlets that are reliant on Christmas trade to carry them through the slower months.
"Council has been working closely with traders to put in place a range of measures to encourage footfall and reassure customers that they can shop safely at this time.
"This includes extensive plans to improve the actual physical infrastructure of our city and town centre environment through the Recovery Revitalisation Programme.
"In recent days Council has also launched a Covid Reassurance Mark self-assessment scheme for local businesses, to restore customer confidence by highlighting the measures being taken by outlets to protect both staff and customers in adherence to the health and safety guidelines.
"By offering free parking I hope this is an incentive for shoppers to support local where they can this weekend, and give our businesses a vote of confidence and support this Christmas."
The Strabane BID Scheme has been working closely with Council and businesses in the Strabane area to offer support and guidance in recent months.
BID Chair Kieran Kennedy said: "I am delighted to see shoppers benefitting from free parking this weekend, which is generally one of the busiest weekends of the year for local retailers.
"We have been working closely with all local stakeholders to come up with alternative ways to promote the shop local message and proactively engage the support of the public.
"I'm greatly impressed by the efforts of local businesses to ensure their premises are safe and compliant with the government regulations, with many investing at significant cost to safeguard their staff and customers.
"While thankfully the New Year is looking more hopeful for the local economy, there are many challenging months to come and we must continue to work together as a community to get through these difficult times."
Strabane Town Centre Development Manager, Emma McGill, added: "This is a small gesture but one which we hope will encourage shoppers to spend their money locally this weekend.
"Strabane has a fantastic retail offering and a bespoke gift selection that you won't find in bigger high street shops or online.
"Both BID's Support Local, Support Strabane campaign and Council's Small Spend Giant Difference Campaign have been promoting the message that even buying a few things from a smaller retailer can have a major impact, so I want people to really think about where their money will make the biggest difference this year.
"Let's keep up the spirit of giving and community resilience over Christmas by supporting our local business community."
There will be no tariffs collected at all Off Street car parks in the Strabane area on Saturday December 19th and Sunday December 20th.
Tags: