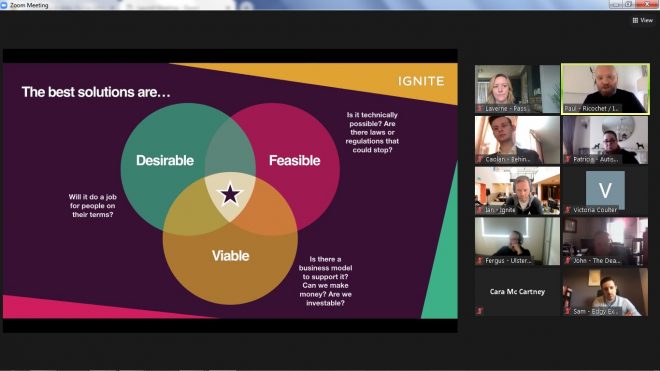 A selection of early stage businesses and entrepreneurs took part in a start-up boot camp on Wednesday which provided them with the tools and knowledge to grow and scale their business.
The one-day virtual boot camp, which was delivered by Ignite NI, saw 15 applicants with scalable and technology-enabled ideas take part.
The aim of the boot camp was to help start-ups succeed, and to inspire and equip them with key building blocks to grow and scale their business.
During the boot camp attendees learned about the key factors involved in building a start-up and heard directly from successful CEOs who shared their experiences in starting and growing their own companies.
There were also introductions to representatives from boot camp partners Derry City and Strabane District Council and Ulster University, as well as representatives from Invest Northern Ireland, who supported the virtual event.
During the boot camp there were also challenges and themed sessions, and one-to-one support was provided by the highly experienced Ignite NI team.
Kevin O'Connor, Council's Head of Business, said that the boot camp was a massive success in showing entrepreneurs and early stage businesses that the district is a good location to take their first steps.
"The start-up boot camp was an excellent opportunity for us to engage with entrepreneurs and explain that we have a support ecosystem within Derry and Strabane to support founders on their journey and to help them to grow.
"If we build supportive communities then the start-up density will increase and the number of successful companies will increase, which then leads to higher job creation and a thriving region.
"Entrepreneurial successes are an engine for innovation, growth and job creation which drives economic prosperity and vibrancy, and develops a sense of optimism.
He continued: "Council is committed to working with early stage companies to help them succeed, and there are also many other support agencies out there including Ulster University, Invest Northern Ireland, Catalyst Inc. and North West Regional College."
Ian Browne, Ignite NI's Chief Operating Officer, said the boot camp was informative and engaging for all involved.
"Naturally this can be a difficult time to think about starting a new business, but there's never been a better time.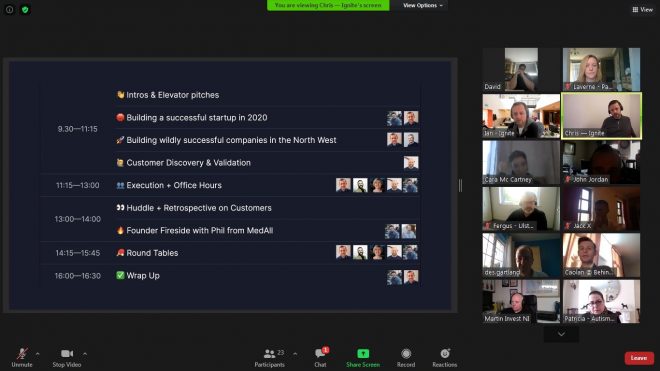 "We felt the boot camp gave real optimism about the future ahead and about the decision to take that first step.
"There is a lot of potential within the Derry and Strabane Council area and participants left armed with the tools and the knowledge of where to go next and the confidence to join a supportive network of start-ups within the district that will stimulate further growth."
Applicants who weren't selected to take part in the boot camp on this occasion were referred to Council's business team for tailored support and mentoring.
To contact Council's business team, call 02871253253 or visit https://www.derrystrabane.com/businesssupport
Tags: