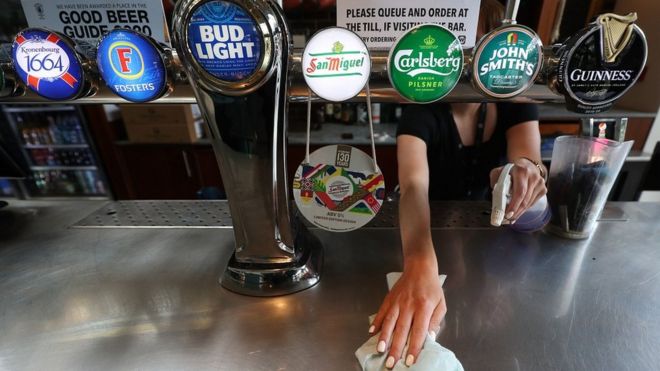 Stormont ministers have agreed a multi-million pound support package to help people hit by tightened Covid-19 lockdown restrictions.
From Friday, non-essential shops and businesses will close for two weeks, as part of tougher measures across NI.
The executive had pledged to provide additional financial support to businesses forced to close.
The immediate package will be worth about £338m, while £150m is being set aside for longer-term rates relief.
Finance Minister Conor Murphy set out full details of the plan in the assembly on Monday afternoon.
Among the measures agreed by the executive are:
A £95m voucher scheme to encourage shoppers to support local traders by giving them a pre-paid card to spend on the High Street
£44.3m to allow one-off heating payments of £200 to disabled people on higher rate allowances and older people in receipt of pension credit
£20m for company directors, a group that has been excluded from previous support
£20m to extend a 12-months rates holiday to manufacturing businesses, bringing the sector into line with what has been offered to hospitality, tourism, leisure and retail
£10.6m to support about 1,000 drink-only pubs that have been shut since 16 October
£10m for councils
£10m for sports clubs hit by the restrictions
£5m to top up the tourism and hospitality grants scheme
£4.1m for about 953 bed and breakfast accommodation businesses excluded from previous support
£3m to help local businesses grow online sales
The pre-paid card issued through the voucher scheme will be worth about £200 per household, said Mr Murphy.
He said it will roll out in early 2021, as it takes about six weeks to develop.
"It's not meant to support households, it's meant to stimulate growth on the High Street," he told assembly members.
Other allocations include £26.3m to the Department for Infrastructure to replace lost income for Translink, the Crumlin Road Gaol, Driver and Vehicle Licensing Agency and the Rathlin Ferry, and £1.2m to support the City of Derry Airport.
There is also £5m to support the scheme for charities, to run until the end of March 2021, and £2.3m to top up the social enterprise grant scheme.
The finance minister also confirmed previously announced plans to extend free school meals payments until 2022, with £26.4m allocated to this.
Mr Murphy said uncertainty with the virus and not knowing how much Stormont would receive from the Treasury had made planning difficult.
He said the financial support package he was announcing was as a result of an additional £400m provided from Westminster two weeks ago to support the executive's response.
"Had we as an Executive allocated this funding immediately, we wouldn't have been able to take into account the new restrictions agreed by the Executive last week," he said.
"In my view it was right to have a plan in place to take us to the New Year, before making these allocations."
Mr Murphy and Economy Minister Diane Dodds are understood to have spent the weekend working on plans, with their departmental officials.
Tags: