The art project aims to highlight how self-isolation has cut some older people off from everyday interactions.
Organisers hope to underline how communities need to keep connected despite the coronavirus pandemic.
The photographs, taken at front doors or in gardens, are hanging from fences and Free Derry Wall.
Two rows of portraits of residents have been attached to the fencing along Rossville Street, which leads to Free Derry Corner.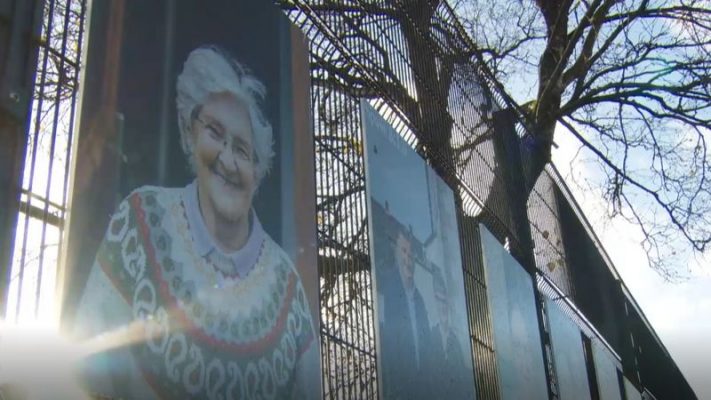 One of the images is of John and May Carlin, smiling together outside their front door in Iona Park, Londonderry.
John, aged 80, said his snooker club had been closed down by the pandemic so he was helping out at an allotment twice a week, making cups of tea for his friends instead.
"It's very important to get out," he said. "Sitting in the house would drive you crazy.
"The worst thing is not being able to see your friends – when you're talking to somebody it gives you a wee bit of a lift from sitting in the house.
"It does get terribly lonely at times but that's the time you have to try and do something because if you sit watching TV all day you would drive yourself mad."
May, 73, said a big family party for John's 80th birthday had to be cancelled and their granddaughter Rose's first communion rearranged due to the restrictions.
"So many big things happening this year and it all fell flat," she said.
"For John's birthday they stood at the end of the garden and we made something of it.
"We stayed at one side, they stayed at the other… our girls were terrific but it wasn't the same.
"You miss the contact, you miss hugging and the kissing of the grandkids."
Sean Herron, 80 and from Oakgrove, said he and his wife had been very active before the pandemic hit, going to dance classes, circuit training, hill walking and singing in a choir.
"It can be tough at times, especially when you're in the house for long periods," he said.
"You just try not to think about it.
"Take every day as it comes and don't be thinking what am I going to do – I'm stuck in here."
The exhibition, titled Social Distancing Should Not Mean Social Isolation, has been organised by Bogside and Brandywell Health Forum and Gasyard Wall Féile.
Mary Breslin, Bogside and Brandywell Health Forum's older people's lead, said community workers could see the toll social distancing was taking on many people and wanted to do something to help.
They spotted an opportunity to use Rossville Street as an outdoor exhibition space now the galleries, museums and community centres are all closed and hit on the idea of taking photographs of older people.
Regulars at the health forum's Men's Shed and Monday Club were asked if they'd like their portrait taken and the photographer also asked residents if they wanted to take part.
She said: "Loneliness can affect us at any age but many older people are facing specific challenges at the moment when it comes to staying connected with others.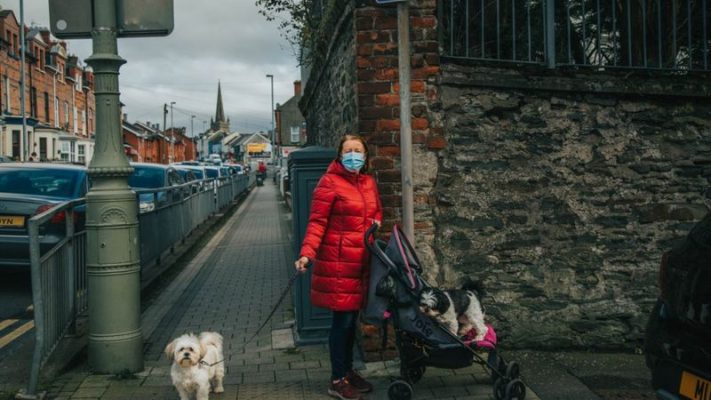 "During these difficult times, many of our older residents have been asked to self-isolate, meaning they have missed out on everyday interactions in their communities like shopping, seeing family, friends and neighbours, going to local clubs and centres.
"And while plenty of older people have been embracing digital technology in order to connect to others, we know that there are many in this age group who have never used the internet or aren't able to get online."
Gareth Stewart from Féile, the biggest community and arts festival in the north-west, was able to get the portraits displayed so people can enjoy them outside despite the pandemic restrictions.
He said: "The exhibition can be enjoyed safely while also sending a powerful message that we need to look out for our older residents now more than ever."
This project is part of the Streets Alive programme, supported by Urban Villages, New Gate Arts Centre and the Old Library Trust.
The exhibition runs until Saturday, November 28.
Tags:
GIANT portraits of Derry pensioners have been displayed around the city to highlight the issue of loneliness.