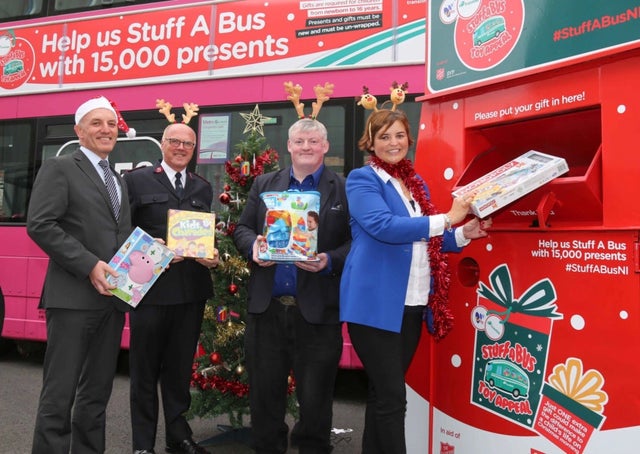 MAYOR of Derry City and Strabane District Council, Councillor Brian Tierney, has joined representatives from The Salvation Army and St Vincent de Paul to lend his support to their Christmas Family Appeal.
The appeal has been helping struggling families celebrate Christmas for 40 years and this year will help families facing impossible choices.
The Christmas Family Appeal has benefited from the enormous generosity of the public who have donated thousands of toys in previous years.
This Christmas, due to Covid-19, the general public are being encouraged to make a donation online at https://uk.virginmoneygiving.com/ChristmasFamilyAppeal
Captain Julia Mapstone from The Salvation Army said: "As a church and charity, we are inspired by the Christmas message to reach out to families in need with presents for children who might otherwise miss out on the joy and hope of this time of year.
"Through our frontline work in towns across Northern Ireland, we have seen first-hand the impact of the pandemic on the families we support.
"That's why we look forward to working with our good friends at St Vincent de Paul again to bring Christmas cheer to children and young people who might otherwise go without.
"The Family Appeal relies on the incredible generosity of the public and businesses, as well as the support of our dedicated volunteers.
"We know this year has been difficult for so many but we ask that people continue to support the Family Appeal and help us make a difference this Christmas."
Ella McCallion from St Vincent de Paul added: "Traditionally a time of hope, for some families we support this time of year is filled with worry and dread.
"These feelings have been heightened with the impact of the pandemic and while we are all considering a different kind of Christmas this year, some families will be faced with impossible choices.
"The choice of heating their home or putting presents under the tree.
"The choice of buying Christmas dinner or new clothes for their children.
"Rather than leaving families to struggle with these decisions alone, we want every child in Northern Ireland to enjoy the magic of Christmas by finding a gift under the tree on Christmas morning.
"Online donations made to the Christmas Family Appeal this year will be converted into gift vouchers empowering parents and guardians to choose gifts themselves."
Help The Salvation Army and St Vincent de Paul ensure that children enjoy the magic of Christmas by donating to the Family Appeal today, https://uk.virginmoneygiving.com/ChristmasFamilyAppeal
Tags: