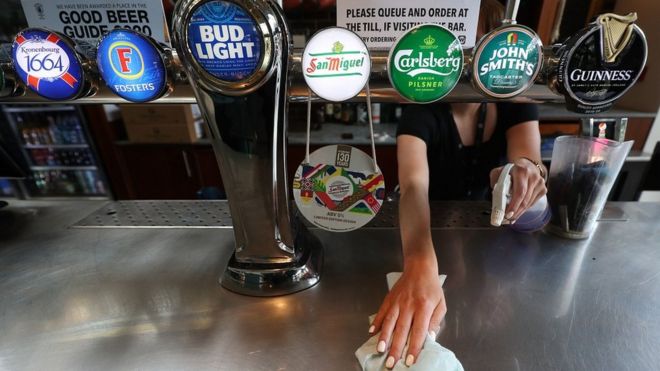 THE Stormont Executive will meet later on Thursday in another attempt to resolve differences over Covid-19 restrictions in the North of Ireland.
Talks broke up on Wednesday night without agreement about restrictions for hospitality and small businesses.
Parts of the economy were placed under a forced shutdown on 16 October.
That is due to end at midnight on Thursday.
Derry has been in lockdown since October 5.
Ministers are to consider a compromise proposal which would keep the restrictions in place for one more week.
It has been put forward by the Alliance Party leader and Justice Minister Naomi Long.
It is understood it would merge a plan by Ulster Unionist Health Minister Robin Swann – in which businesses would shut for one more week – with a plan from DUP Economy Minister Diane Dodds which would see partial reopening within days.
Separate proposals from the two ministers were rejected on Wednesday.
The DUP supports a partial reopening of hospitality and close-contact services from Friday.
One business organisation described the deadlock at Stormont as "our politics at its worst again".
Mr Swann has warned his ministerial colleagues that doing nothing "needs to be avoided" at all costs and that some mitigations must be retained.
Sinn Féin, the SDLP and the Alliance Party had previously said they would support Mr Swann's proposal of a two-week extension of all restrictions.
UUP leader Steve Aiken said that while the economy was important, hospitals must be protected.
Speaking on the BBC's Good Morning Ulster programme, he called on the DUP to "show leadership".
"There are four parties that have shown leadership. It is time for the DUP to actually decide what they want to do for Northern Ireland," said Mr Aiken.
On Sunday, the Sinn Féin vice-president and Deputy First Minister Michelle O'Neill had suggested a partial and graduated reopening of some sectors was being considered by ministers.
The DUP leader and First Minister Arlene Foster has said any decision on the restrictions must be balanced and protect both hospitals and livelihoods.
The North of Ireland was facing a "mental health tsunami" if the economy was not considered, as well as health advice, she said.
In the latest advice from the Mr Swann, Chief Medical Officer Dr Michael McBride and Chief Scientific Adviser Prof Ian Young, issued to ministers on Wednesday, the health minister stated that a "do nothing" approach of allowing the regulations to expire was the worst possible scenario.
Modelling data from health officials to the executive suggests that reopening some sectors, or allowing the regulations to expire, would make further interventions before Christmas more likely.
Tina McKenzie of the Federation of Small Businesses (FSB) said: "You couldn't get a worse scenario."
Ms McKenzie, the NI chair of the FSB, said the "lack of communication" from the Executive had led to confusion among businesses.
"They are at sea, with some saying they will not be able to open even if they get the go-ahead," she said.
"Very few of them have got any money since four weeks ago – they have been angry and now they are in despair.
"I don't agree that it's one party or a green-and-orange issue – this is our politics at its worst again," she added.
Derry cafe owner Declan Moore has been critical of the executive, saying: "I don't see why they're dithering – I think it's bizarre.
"It really seems like there's a bit of a political football getting kicked around."
Tags: