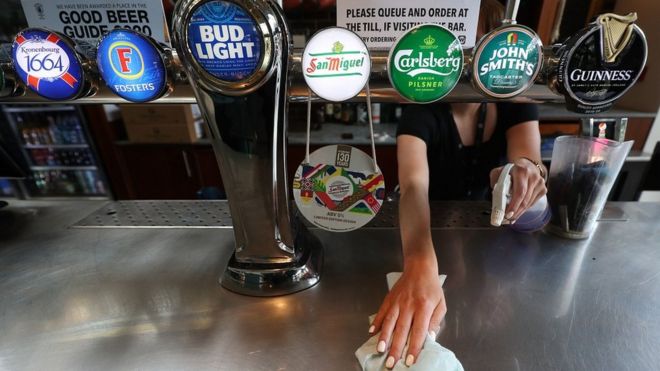 CAFES and restaurants in the North of Ireland could be allowed to reopen from Friday but not bars, the deputy first minister has suggested.
Michelle O'Neill said it was "something we are considering" ahead of the executive meeting to discuss easing some Covid-19 restrictions.
Current measures are due to end on Friday and ministers have been advised pubs and restaurants should remain closed for another two weeks.
Derry has been in lockdown since October 5 after a spike in Coronavirus cases.
Ms O'Neill said there could be some "flexibility" for easing restrictions.
Speaking to the BBC's Sunday Politics, she said any decisions would be taken in a "graduated" manner.
Speaking on Thursday, First Minister Arlene Foster said the restrictions imposed on 16 October had helped bring the R-rate – or reproduction number – down to 0.7.
However, Sinn Féin vice-president Ms O'Neill said that number did not take into account the reopening of schools last week, and that the impact of that may not be known until next week.
Michelle O'Neill said the executive would not keep any measure in place "longer than necessary" and they were looking at reopening some areas.
She said: "For example, close contact services, is there space for us to open those things up again from next Friday, in a very regulated way of course, on an appointment by appointment basis, a one in one out basis?" she said.
"The restrictions very much focus on the hospitality sector right now so we're looking at that wide family.
"Across hospitality, you've everything from a cafe or a coffee shop, right through to a nightclub and they're two very different scenarios.
"We're looking at whether there is any space or scope there to lift some of those things in a graduated way over the course of the next number of weeks."
Hospitality business have called for clarity as soon as possible, but the deputy first minister said the sale of alcohol was a factor to consider in coming to a decision.
She said: "We have to be very mindful of the fact that perhaps people's defences come down when there is alcohol taken.
"So what we're looking at is are there ways that we can open things up perhaps without alcohol?
"If we can find a way to get ourselves into the new year with the restrictions that we bring in now then that's the prize that we're going for here.
"We don't want to have to intervene again before Christmas, we want to be able to allow some flexibility to allow people to move around as much as possible, to allow as much of our economy to open up as possible."
A two week extension proposed by health officials until the end of November is supported by Foyle MP Colum Eastwood and his Stormont minister Nicola Mallon.
Tags: