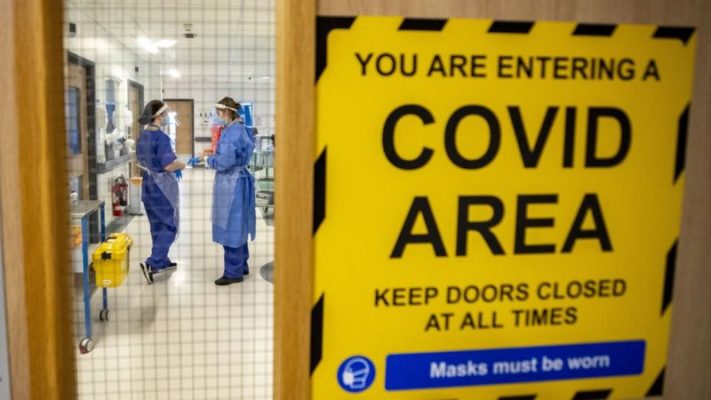 Medical leaders in the North of Ireland have called for "breathing space", as the rise in Covid-19 cases places increasing pressure on health services.
In a joint statement, the Royal Colleges of Surgeons, General Practitioners and Physicians said they are "extremely concerned".
They urged people to follow public health advice on social distancing, hand-washing and wearing face masks.
Trusts are understood to be escalating plans to deal with the surge.
The joint appeal from three royal colleges was issued as the latest data from the Department of Health showed hospitals are operating close to capacity, with 96% of all hospital beds in Northern Ireland occupied.
The department's Covid statistics dashboard also showed that 51 of Northern Ireland's 120 intensive care unit (ICU) beds were occupied by Covid-19 patients on Tuesday.
A further 54 ICU beds were occupied by patients with other conditions, meaning there were just 15 available.
All six of Northern Ireland's health trusts and the Northern Ireland Ambulance Service are under strain due to the extra pressures of the pandemic, and are close to substantially reducing routine surgery as a result.
More staff have been told they will be moved to work in Covid wards and intensive care units.
Describing it as a worrying picture, the leader of the Royal College of GPs, Dr Laurence Dorman, issued a plea to the public to support an "exhausted" health service workforce by following the rules.
"We're all extremely busy and extremely worried as our hospitals come close to capacity," he told the BBC's Good Morning Ulster programme.
"In our practices, just like our hospitals, we are seeing that our staff are being affected by Covid in that staff are having to go off in self-isolation, through either contracting the virus or by being in contact with people with the virus."
Dr Dorman said staff absences were putting pressure on the system, at a time when GPs are also having to cope with the fallout of cancelled operations.
He said GPs were seeing patients who have already been waiting a long time for cancer surgery and elective procedures such as hip replacements.
"With delays in their treatment, as a GP we're having to manage those patients in the community."
The director of the Royal College of Surgeons, Mark Taylor, said it was becoming increasingly difficult to deliver services like elective surgery, as staff are re-deployed to deal with the demands of the virus.
He said breathing space was needed to get through the second wave and allow other, time-dependent procedures to continue.
Hamish Courtney, from the Royal College of Physicians, called on politicians to do all they can to support front-line healthcare workers and services.
On Tuesday, the chair of the British Medical Association (BMA) in Northern Ireland warned against reopening the hospitality industry next week.
Dr Tom Black said that the reopening of pubs and restaurants on November 13 would be "an act of careless vandalism".
On Wednesday, Dr Dorman was asked if he would support calls for another lockdown.
"The Royal College of GPs, as a national organisation, does not have a position on lockdowns per se," he replied.
"But we can offer is [how] we see the clinical picture on the ground and it is extremely worrying."
He denied the joint statement from the three royal colleges was an attempt to send a message to politicians.
"No, I don't have a message for politicians… ultimately these are political decisions," Dr Dorman said.
"We're really urging the public – please help us drive this infection down and let's help keep it down."
The Department of Health reported on Tuesday that six more people had died in Northern Ireland after contracting Covid-19.
It brings its death toll, based on a positive test result being recorded, to 730.
A further 570 positive cases have been recorded, bringing the Department of Health's total number of confirmed cases to 40,179 since the beginning of the pandemic.
Tags: