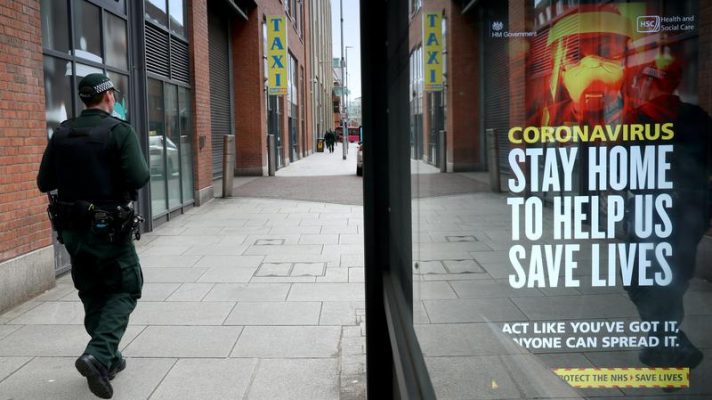 Tougher penalties agreed by the NI Executive for breaches of Covid restrictions are not yet law due to a delay in printing enforcement notices.
The executive agreed on 8 October to raise the minimum fine to £200, and fines on conviction up to £10,000.
On Monday, Justice Minister Naomi Long said the regulations "should be laid shortly" in the assembly to become law.
A total of 268 fines and warnings have been issued in NI during the past seven days for breaches of Covid regulations.
More than 3,000 fines and warnings have been given out by police since March, according to the PSNI.
At present, fixed penalty notices start at £60, but can rise to £960 for repeat offenders.
On Monday, police said 1,775 fixed penalty notices have been handed out, an increase of 177 since 26 October.
Two further £1,000 fines for failure to self-isolate were given out, taking the total issued by police to 47.
The justice minister was asked for a timeframe for the tougher penalties by DUP Foyle MLA Gary Middleton on Monday.
Mr Middleton said they were "of utmost importance" to suppress the spread of the virus.
"We also want to ensure that we can get our economy back open again, so enforcement and penalties are very important," he said.
Mrs Long said the regulations will not be laid in the assembly until the police are ready to enforce them, describing delays in printing enforcement notices.
"It is important that we do so as quickly as possible, however the timing of this will unfortunately be led largely by the time it will take for the PSNI to be able to police the new enforcement notices," she told MLAs during justice minister questions.
"There have been some issues around delays in that because of the pressure on the bespoke printing that is required for those enforcement notices.
"However, as soon as those enforcement notices are ready to be able to be rolled out across the police service, we have the regulations ready to be laid in the chamber."
Assistant Chief Constable Alan Todd said that after the penalties were announced on 8 October there followed a drafting process at the assembly.
"When the above process was completed, the police service was able to confirm the design for the new penalty notices and place the order with suppliers," he said.
"The tickets are produced by a specialist printer within a defined production and delivery schedule and we anticipate delivery in the near future.
"All partners including the Department of Justice and the Executive Office have been kept fully informed of the time frames involved."
In October, ministers agreed to replace the £60 fixed penalty notice which could increase on each detection with a single tariff of £200.
Three other offences will be punishable on conviction by a fine of up to £10,000, or attract a fixed penalty notice starting at £1,000 and going up to a maximum of £10,000.
Tags: