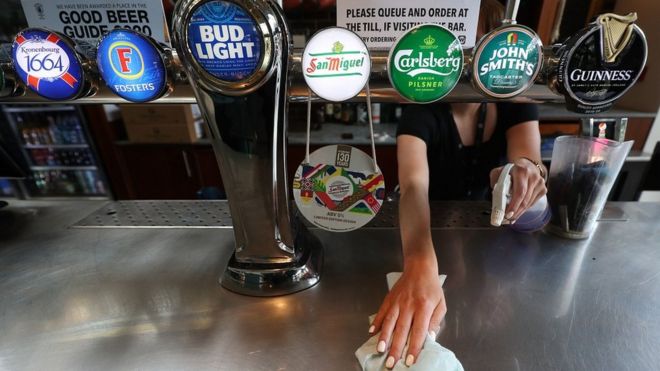 THE re-opening of the North's hospitality industry next week would be "an act of careless vandalism", according to a Derry GP.
Dr Tom Black said the return of the sector "at this stage" of the Coronavirus pandemic "would be appalling".
On Monday, First Minister Arlene Foster confirmed the current restrictions will end on November 13.
The measures were to last four weeks.
Deputy First Minister Michelle O'Neill said they would be "reviewed" at the end of the period.
The hospitality sector in Derry was shut earlier on October 5 after a spike in Coroanvirus infections in the community.
Dr Black, the chair of the British Medical Association (BMA) here, said opening pubs and restaurants would send the message to the public that the pandemic in the North of Ireland is "not so bad".
"We are in the worst pandemic we'll ever see, in a second wave that is much worse than the first wave, with wards full, intensive care full and huge numbers of outbreaks in care homes," he told BBC Radio Ulster's Good Morning Ulster programme.
"It would inevitably result in our health service being overwhelmed.
"It would inevitably result in increased pain, suffering and death for our community.
"Can I emphasise this any more strongly?
"We can't have hospitality opening during a huge second wave in a pandemic, end of discussion.
"We need leadership from our executive, we've had dithering.
"We need clear decisions, we need firm action," Dr Black continued.
"They had a very good first wave, they're having a very bad second wave."
Roger Pollen from the Federation of Small Businesses said the "broad-brush term of saying we must close hospitality, end of discussion, is not wise".
Businesses and medical professionals are not "on different sides", he added.
"We have to look at how we continue to keep the economy operating safely to achieve the objective that Tom is after and we are after.
"Unless there's a vaccine on the horizon we need to find ways of managing this situation better."
Hospitality Ulster, which represent thousands of people who work in bars, restaurants, cafes and hotels in the North of Ireland, has repeatedly called for better enforcement of Covid restrictions in order to help compliant businesses stay open during the pandemic.
"We have no objection about being inspected and having a set of standards," said its chief executive Colin Neill.
"We do not want hiding places for anyone in the industry who are not looking after the welfare of their staff and customers."
Mr Neill said Hospitality Ulster has suggested the creation of a "Covid-secure hospitality standard", similar to the Scores on the Doors system for food hygiene inspections.
"We as an industry have led from the front, saying 'Give us legally enforceable standards', Mr Neill told the BBC's Nolan Show.
"It really makes sense – rather than spending millions of pounds trying to subsidise businesses or lockdown, re-divert some of that cash to our local authorities where they can go out and ensure compliance.
"We already do it for food hygiene – this is serious as food hygiene."
Tags: