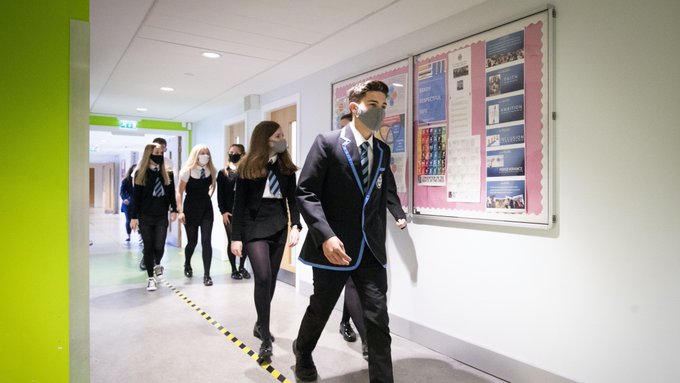 SCHOOLS are to reopen this morning after an extended half-term break.
They closed on 19 October as part of tighter Covid-19 restrictions imposed by the Northern Ireland Executive.
As coronavirus cases continue to rise, extra safety measures will be in place, including the mandatory wearing of face coverings for post-primary pupils on school transport.
The education minister has also urged parents and carers not to congregate at school gates when dropping off pupils.
Peter Weir again stressed that keeping schools open remained his key priority.
But he said that parents and carers "are at the heart of fighting the virus and minimising any disruption to education".
He asked parents and carers to practise social distancing, wear a mask and try to avoid going beyond the school gate unless an appointment has been made.
As for pupils, he asked them to have face coverings with them at all times, practise good hand hygiene and not to eat or share food on transport.
"I know from speaking to parents, carers and teachers that they want their children to be in school," the education minister said.
"Face to face teaching is the best form of educational provision."
Mr Weir said he understood there may be concerns over children's wellbeing during the pandemic.
"Children and young people have missed so much this year already, not just in terms of learning but in socialising with their friends, taking part in sports and other activities," he said.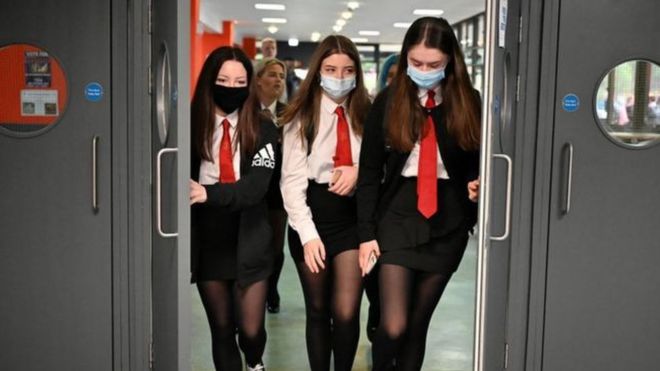 "I know that the overwhelming desire of parents and carers is to maintain a full return to school and I thank them for all the sacrifices they are making in very difficult circumstances."
Caroline McCarthy, from the Irish National Teachers' Organisation, said teachers are feeling anxious and concerned about the return to school.
"Protecting children's education actually goes hand in hand with protecting the staff in schools," she told BBC News NI's Good Morning Ulster.
"When we closed for the extended Halloween break for the children, some some schools were suffering serious staff shortages and I think the anxiety of staff within schools has to be acknowledged as well."
Ms McCarthy also called for the wearing of masks to be extended to the school environment in post-primary schools.
There have been confirmed Covid-19 cases in half of North of Ireland's schools since the start of term, according to the Public Health Agency.
According to Department of Education (DE) attendance guidance issued to schools, pupils are to be marked absent using code eight if they are "advised not to attend school following advice from PHA Contact Tracing Service".
Code eight can also be used if "a pupil chooses not to attend school or parent chooses not to send their child to school on the advice of a medical professional as the child is self-isolating due to a significant underlying medical condition".
Using code eight is "important to identify the number of pupils choosing to self-isolate due to Covid-19", the DE guidance to schools said.
Pupils self-isolating at home are still expected to complete work provided by their school or be taught remotely.
Tags: