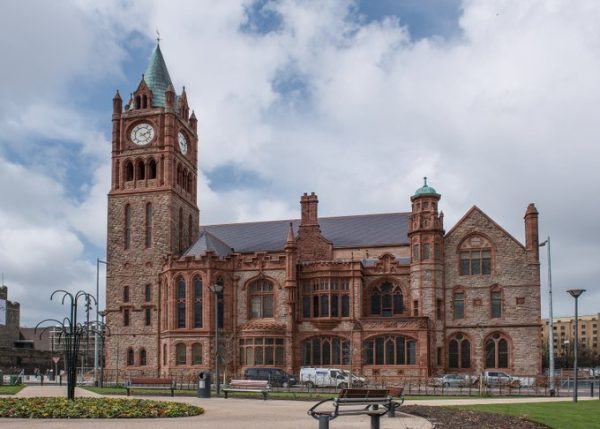 Derry City and Strabane District Council has voted against marking the centenary of the North of Ireland.
Unionists have described it as a "retrograde step".
The motion was passed at a meeting on Thursday.
It means the council will not participate in any commemorative or celebratory events next year.
Northern Ireland was created in 1921 following the partition of Ireland.
DUP Foyle MLA Gary Middleton said the vote was a "huge blow for community relations".
"This is a retrograde step which should disappoint anyone focused on mutual respect and understanding," he said.
Mr Middleton added: "Regardless of anyone's viewpoint, the centenary of Northern Ireland is a significant milestone in our shared history."
The motion, proposed by independent councillor Gary Donnelly called on council not to commemorate or celebrate any event in relation to the centenary of NI 2021 given "the injustice of partition".
It passed with 27 votes for and ten against.
Speaking at the council meeting DUP councillor David Ramsey said council is being asked "to take a stand which to my eyes and the eyes of many, is sectarian".
Ulster Unionist councillor Darren Guy said the vote was "senseless".
"This council prides itself on inclusiveness and equality," he said.
"There is no inclusiveness in this proposal".
At Thursday's full council meeting, all SDLP and Sinn Féin representatives voted in favour of the motion.
Sinn Féin councillor Mickey Cooper said council should pursue funding for community groups wishing to mark the centenary, but said council should not "corporately hold any events celebrating partition".
SDLP councillor Martin Reilly told the meeting the many people in the council area who wish to mark the centenary should do so.
"But I also agree that council should not be supportive of partition."
Events in NI, Great Britain and further afield are being planned to commemorate the centenary of the creation of the North of Ireland.
British Prime Minister Boris Johnson has previously said the centenary should be celebrated in a "sensitive" way.
Tags: