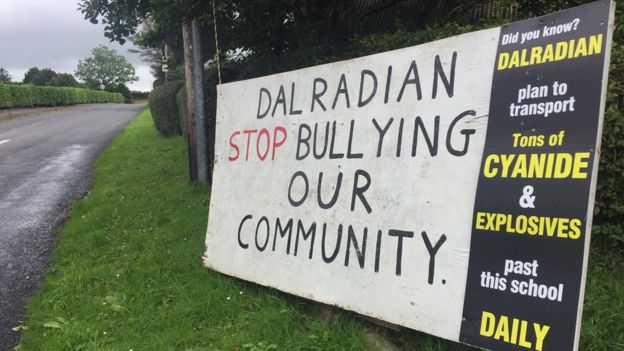 A controversial bid to build a gold mine is to be at the centre of a new High Court challenge, it emerged on Friday.
Infrastructure Minister Nichola Mallon has already ordered a public inquiry into Canadian firm Dalradian's application for planning permission.
But a campaigner who lives close to the proposed mining site in the Sperrin Mountains claims she has not gone far enough to deal with health and environmental concerns.
Greencastle resident Martin Tracey contends there is also a legal obligation to examine any threats to life and safety.
He has now launched judicial review proceedings in an attempt to have the minister compelled to hold an investigation which complies with human rights.
"Only an independent expert-led inquiry into the potential dangerous aspects of the gold mine development will satisfy the community," Mr Tracey insisted.
Dalradian has been seeking permission to mine in the Sperrins since 2017.
The company believes up to £3bn worth of gold could be deposited in the mountains, with its proposed 25-year project supporting hundreds of jobs and providing a massive boost to the local economy.
But opponents claim it could have a major environmental impact and damage the surrounding area of outstanding natural beauty.
More than 40,000 representations have been submitted to the Department of Infrastructure about the proposal.
Previous court battles have focused on preliminary consultation on the contentious project and water discharge consent at an exploratory site.
In June, Ms Mallon announced a public inquiry is to be held before taking a decision on the planning application.
Mr Tracey claimed he had to take legal action to secure "an effective and fair investigation".
He said: "The community of Greencastle have struggled for nearly five years to gain access to meaningful information on the implications of the development of intensive gold mining in the Greencastle area."
His solicitor, Darragh Mackin, confirmed court papers have been lodged, with a hearing date still to be listed.
"When there are serious risks to life, safety and property there is an obligation imposed on the Minister to conduct a human rights compliant investigation," Mr Mackin said.
"No such investigation has yet been initiated nor contemplated."
He added: "Any investigation must destabilise the current regime of 'David vs Goliath', and instead ensure the equality of arms for those local residents directly affected by this unprecedented application."
Tags: