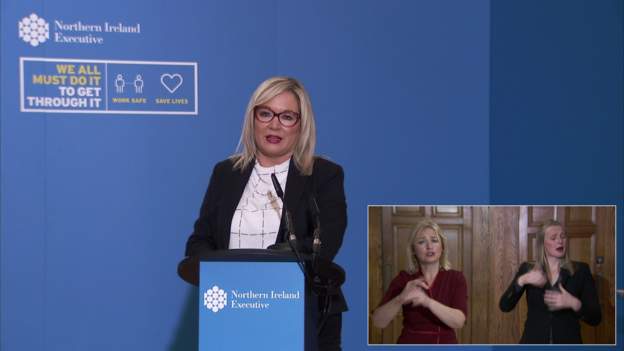 Deputy First Minister Michelle O'Neill says the people of Derry and Strabane are "exemplar" of what can happen "when everyone unites together".
She praised the region for their efforts to reduce the high transmission rates of Covid-19 since it went into lockdown on October 5.
"They have stepped up and made a serious effort to protect each other," she added.
She said the executive hopes to see Covid-19 cases fall "even further in the coming days and weeks".
"We are starting to see some of the evidence that infection rates are starting to level off," said Ms O'Neill.
"Infection rates a fortnight ago had reached crisis levels and were multiplying by the day."
She thanked the public for adhering to guidelines but urged people not to "drop their guards".
First Minister Arlene Foster says the executive has considered the impact of the tighter restricions and there are "greenshoots of hope".
"The north west area has seen an encouraging decrease in over 50% of cases," she says.
"The medical and scientific advice is that the R rate for case numbers has dropped below one for the first time since early summer."
She adds that there is evidence of the positive impact of the restrictions being observed.
Tags: