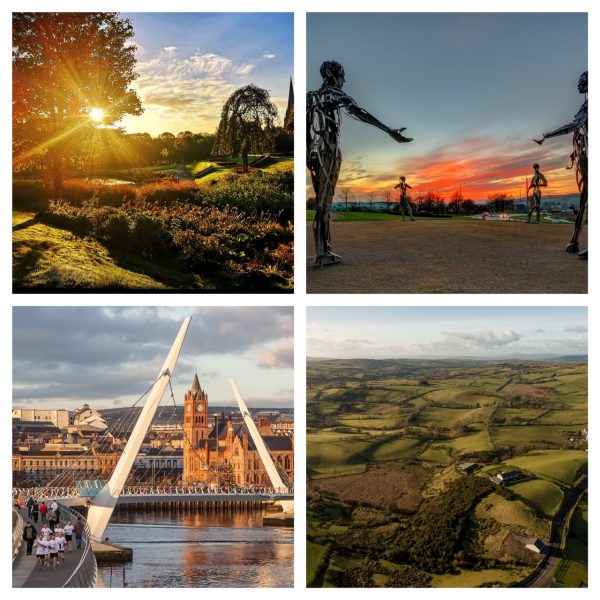 THE Derry and Strabane area has been ranked as the best place to work from home in the North of Ireland, and the fourth best in the UK.
That is according to the Remote Working Index put together by uSwitch.com after research carried out ranking 106 of the UK's biggest towns and cities on metrics including broadband speed, green spaces, air quality, crime rates, quality of schools, and GPs per 100,000 people.
The Derry and Strabane area ranked second overall for green spaces and low crime rates, and third for low air pollution.
The result comes after the North of Ireland was voted as the happiest place in the UK to live earlier this month, according to the Lloyd's Bank Happiness Index.
Derry City and Strabane District Council's business team have also been working to promote the area as a remote working destination for employees and businesses.
When it comes to working remotely, connectivity is a hugely important factor, and Derry and Strabane has been found to have broadband which is fast and reliable.
And for those who still have to travel, City of Derry Airport provides a centralised hub.
With a unique combination of access to coastline and beaches, woodland, rivers and greenways Derry and Strabane provides a platform for the perfect work/life balance bringing such a positive impact on well-being.
Remote working in Derry and Strabane is also extremely attractive due to the cost of general living here making salaries go that bit further.
Mayor of Derry City and Strabane District Council, Cllr Brian Tierney, said that the research showed that the district is attractive for remote working on many levels.
"Working from home has become a much more significant factor in most people's lives this year, and it's fantastic to see that Derry and Strabane ranks as the number one spot in Northern Ireland, and within the top four throughout the whole of the UK.
"Derry and Strabane ticks all the right boxes when it comes to working from home and working remotely, and that's why we have ranked much higher than some of the largest cities in the UK, such as London (88th) and Manchester (100th).
"Not only is there accessibility through strong broadband speeds, but the high scores on green spaces, low crime and air quality show that Derry and Strabane is a fantastic overall location for working and living."
David Fleming works as a Future Trader for a large independent commodities trading firm and has recently returned from London to work remotely.
"The main difference I find is the commute. In London, like many others, I cycled which would cost me an hour one way," explained David.
"Not having to take an hour out in the morning for the commute I found very beneficial as I deal a lot with markets in the Far East and the extra hour in the evening became an add on to family time."
David also explained that he was surprised at the infrastructure in place which has made connecting all over the world from his home base easy and convenient.
"Broadband was the first thing I looked at and was surprised that actually the broadband speed I am getting is actually slightly better than what I was getting in London.
"Phone signal hasn't been an issue either and given that EU roaming has become significantly cheaper, crossing the border on a regular basis is not the same bank-breaking process it used to be.
He continued: "Everything that I need is available, and when you factor in rent/mortgage costs at a much-reduced rate overall it has been really beneficial."
Looking forward to the future, David said remote working in Derry and Strabane could become much more of a factor.
"In general, I think there has to be a balance as people need to learn, develop and share ideas which is more difficult to do remotely, and it is in the junior ranks that this would be felt most.
"But losing the strict 9-5 attitude and moving towards a results-based approach which, in turn, would promote better time efficiency and a better work/life balance can only be a good thing."
Kathryn Nicell, a commercial lead in a wound care company, and her husband Andy, who works in Talent Acquisition for a financial consultancy firm, have returned to live in Derry for the first time since Andy left in 2003.
Having spent time working in Canada and the United States, they were most recently based in Edinburgh, with Andy travelling to his company's head office in London monthly, and Kathryn doing a similar journey to Wales.
Seventeen years on from when Andy left, Kathryn said they are glad to be based in Derry which has all they need for remote working and a balanced family life.
"We have considered moving here several times, but now that we have the opportunity to work remotely due to Covid-19 we decided that it would be a good time to do it as we have always had the desire to bring our daughter up here in the great schools," said Kathryn.
"Andy is happy to be back in familiar and comfortable territory but is amazed at how Derry has changed through more visible investment and growth.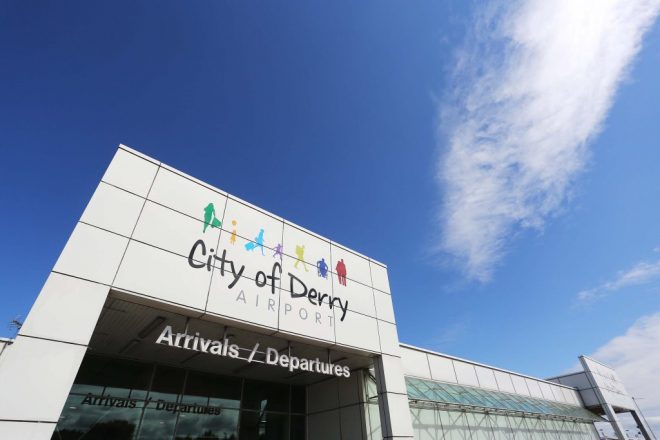 "When things go back closer to the old normal we plan to travel to Edinburgh, London and Cardiff when we need to.
"The duelling of the A6 is going to reduce my travel time significantly and the introduction of a Belfast to Cardiff route next year will also help.
"It is very convenient for Andy to fly from Eglinton, and his travel time to the airport would be less than it was in Edinburgh."
Kathryn also credited the green spaces, community spirit, low crime rates and affordability of living as factors in the family's decision to work remotely from Derry and to plan their future here.
"Since moving here in September this year we have enjoyed local walks in many of the parks and green spaces – we are spoilt for choice with outside space.
"We have enjoyed being within ten minutes out of the city centre as in Scotland we were 40 minutes from the city," explained Kathryn.
"We feel blessed to be able to bring up our daughter somewhere we feel very safe. Derry is also the most family friendly place that we have lived and is what we were in the pursuit of as we moved around to different countries.
"We are happy to be surrounded by happy and welcoming people who are focused on the community and family."
Kathryn continued: "We are lucky that we can work anywhere (close to airport links) and are confident that Derry was the best choice for us.
"We considered other parts of Scotland and Northern Ireland and were seeking greater affordability and quality of life.
"There was nowhere that we looked at where we could get affordable property that met all of our needs, including home office space, had great schools within walking distance and had the transport links should we start to travel again.
"We feel that we have found our home for life if we are able to continue to work remotely."
To view Uswitch's Remote Working Index, visit https://www.uswitch.com/broadband/remote-working-index/
Tags: