One hairdresser of 28 years in Derry says that "come Friday, no wages, no financial support."
Salons and beauty parlours were forced to shut for four weeks as part of a limited lockdown that began on October 16.
But papers published by Stormont to show the scientific reasoning behind the lockdown indicates that the move could have a minimal impact on Covid-19's spread.
Stormont ministers were told shutting hair salons, barber shops and beauty parlours – which all fall under the category of close-contact services – is likely to reduce the reproduction (R) number by 0.05.
The R number is the number of people a person with Covid is likely to infect and the goal is to keep R below 1.
Ministers were also advised that salon closures could "disproportionately" affect women and the "poorest" people.
Hospitality businesses have been limited to takeaway services for a month, but by contrast the closure of bars, restaurants and cafes is estimated to reduce R by between 0.1 and 0.2.
The advice provided to ministers said each visit to a hair or beauty salon "is likely to be high risk as it involves prolonged, face-to-face contact".
But it added that as these visits are "relatively infrequent" the overall impact on the R number is "more limited".
The paper stated that the potential reduction in R is thought to be "up to 0.05, though precise estimation is very difficult".
It also suggested that the use of appropriate personal protective equipment (PPE) can "mitigate risk" and that many salons are "already careful with hygiene".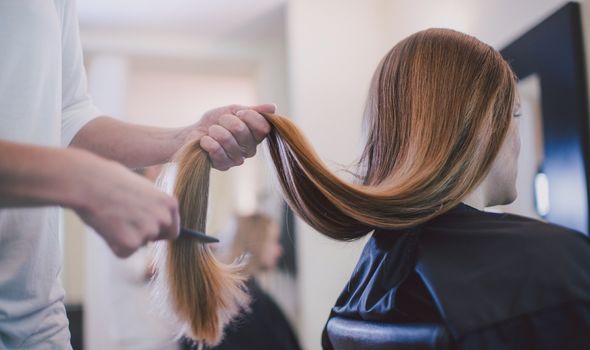 The paper added that evidence from the US-based Centre for Disease Control (CDC) "suggests masks were effective at stopping transmission in a hair dressing salon, but some evidence of infection transmission among hairdressers in the UK".
In terms of the consequences of closure, the paper advises this would results in "high direct impacts resulting from the loss of income for staff" and added this was "likely to disproportionately affect" the poorest people and women.
Kerry Doherty has been a hairdresser for 28 years.
She is self-employed and rents a chair in a salon in Derry.
She said she was "quite shocked" by the paper and cannot understand why salons have to close when the estimated impact on R number is so low.
"We were told to close down, that we had to make the sacrifice to protect people from Covid, which is 100%, I totally agree.
"And now this report is saying closing me and other hairdressers does next to nothing to help stop Covid."
The mother of three added: "I really don't believe that we should have been shut down because we had been taking all the precautions.
"I've been sterilising the chairs – one in, one out. Everything was sterilised, cleaned after every customer."
She added that she wore PPE, disposable gowns and had "everything in place with the guidelines that had been set out".
Ms Doherty added that because she rents a chair rather than owning a salon, she is not eligible to the financial support available to business owners.
"Come Friday, no wages," she said, adding that she and other hairdressers "haven't been allowed to work, feed our families, pay our bills".
"It's two days away and the people who told me to close haven't come back to give us any financial support."
Tags:
Stormont's decision-making is facing a number of questions, with the sharpest queries possibly coming from hair and beauty workers.