Cinematic whizz Jamie Baker captured the footage of the city's world famous carnival celebrations last year while on placement with the North West Carnival Initiative.
The result is a vibrant and colourful whirlwind of Halloween highlights, that perfectly captures the energy and creativity of the festival programme.
The film has now been selected for consideration by Cinemagic for this year's Young Filmmaker of the Year Competition, which will be judged on November 1st during the Cinemagic Belfast Festival.
Cinemagic is an award-winning film charity and is the leading film and television festival for young people in the UK and Ireland.
Jamie studied film through Ulster University's Cinematic Arts programme, and teamed up with the NW Carnival Initiative last year where he was inspired by the network of artists and performers who create the magical scenes that bring the streets to life each year.
Looking ahead to the awards, Jamie is delighted that his film is being brought to wider audiences thanks to the Cinemagic festival, and that more people will have a chance to see his take on the event.
Jamie has always had a passion for moving pictures, and relished the opportunity to apply his skills during Halloween when he took to the streets with the Carnival Initiative.
"I honestly don't know where my passion for film stems from," he admits.
"I've always been fascinated by moving images and love the creative, problem-solving process, combined with the challenge of developing an initial idea taking it from concept to screen.
"My lecturer at UU, Dr Victoria McCollum, was approached by Derry and Strabane District Council and NWCI to see if any students would be interested in documenting the celebrations and preparations for the 2019 events. With Derry Halloween being a world renowned event, I jumped at the chance to film it.
"I wanted to take the viewer on a tour of what Derry Halloween has to offer, as well as giving them a unique insight, for the first time, into the preparations that go into producing such a spectacular event."
Jamie spent a number of weeks shadowing the NWCI, as they engaged with local communities and put the final touches to the vast array of props and costumes that are used by participants in the carnival parade.
"It was an incredible experience working with the NWCI! Jim Collins and the entire team were very welcoming and accommodating of my filmmaking.
"I met Jim on 17th October. and decided to take on the project. Less than 24 hours later I found myself in Mullabuoy Primary School filming a prop making workshop.
"NWCI works with such a wide range of community groups, each making an important contribution to the final event.
"The whole process was very fluid and fast moving and I never had time to get bored!
"I was always trying to capture what was going on in front of me and it wasn't until I got the project into the edit that I worked out the structure that the film was going to take.
"Having taken on the project less than two weeks before Halloween, I was only able to capture the tip of the iceberg of the amazing work that the NWCI does."
Jamie is now looking to the future, and while the Coronavirus pandemic has hit the film and entertainment industry hard, he has been using the time since his graduation to develop his skills further.
"Having graduated from Ulster University Magee during the height of the lockdown restrictions, and with the current volatile employment climate, it's difficult to know where my training and experiences will lead me.
"Currently I'm working on developing my portfolio and am seeking funding opportunities to create new and exciting film projects.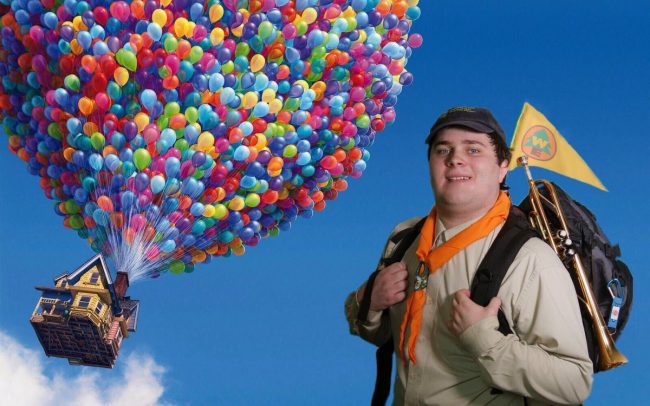 "I know it's an old cliche to say 'It's not the winning, but the taking part that's important!'
"But in this case it's true. Although I would be over the moon if I won, given this is the first time that I've made a short documentary, I'm delighted to be shortlisted for Cinemagic's Young Filmmaker 2020.
"There's nothing worse than putting time, effort and passion into producing a film, only to have it buried in a file on a hard drive, never to be seen by an audience!"
Lecturer in Cinematic Arts at UU, Victoria McCollum, paid tribute to Jamie's work.
"We are delighted for Jamie! Since joining the Cinematic Arts programme at Magee, he has made a collection of imaginative and original films that have taken him to film festivals around the world, from Belfast to Hong Kong.
"Our programme is deeply grounded within the community in Derry. We want to transform lives, stretch minds, develop skills and raise ambitions.
"Everyone knows that Derry is the best Halloween destination in the world! Jamie recognised that the festival would provide rich material for his documentary film project.
"Due to the Council's dedication to supporting creative talent in the region, he was given unprecedented access to the most unique, home-grown and authentic Halloween experience in Europe.
"We are exceedingly proud of Jamie and his prestigious Cinemagic nomination, and the role that our young filmmakers, and the School of Arts and Humanities, plays in the North West."
You can view Derry Halloween 2019- Behind the Walls, the Other World Awakens online via QFT Player (queensfilmtheatre.com/QFT-Player) until November 1, 2020.
It will also be screened during Derry Halloween's virtual programme for 2020 which runs from October 28 – Nov 1st, at 7.45pm on Friday October 30th at derryhalloween.com
Find out how Jamie gets on when the winning films of the year are announced during a virtual online awards ceremony on Sunday, November 1, 2020 at 7 pm on Cinemagic's YouTube Channel 'Cinemagic TV'.
Tags:
DERRY Halloween is the subject of an exciting new short film which has been shortlisted for a special award thanks to one local talent who has been recognised among top young film makers from across the country.