NWCI project manager Jim Collins said they have had to think outside the box, but through online activities and community-driven light installations it is a programme that will bring Halloween spirit to all corners of the district.
"This year due to Covid we've had to re-evaluate what we deliver for Halloween. Normally we have over 30 groups and over 700 people participating in the parade, but we've had to think differently to create content that's still of a high quality and still manages to engage communities," explained Jim.
"This year has been a lot more work, believe it or not. Each year with the parade it's a simple process – it's straightforward and we're seasoned at i​t, whereas now with Covid-19 it has been a massive challenge to deliver genuine community participation.
"Despite that it has opened up doors and hopefully opened up minds to new ways of working within the arts sector. Covid-19 has challenged everyone – communities, artists and providers alike.
"We will, however, need time to evaluate activity and re-imagine activity as we look to the future. We have a blank canvas in some respects, so we're taking the positives from it."
A big focus of the programme this Halloween has been online, with tutorials including everything from lantern-making to creating your own costume from everyday items found in people's homes.
Jim said that they have tried to bring Halloween back to its roots when people created their own costumes from scratch, and there was a great sense of family and community spirit.
"We've already had a fantastic response to our lantern-making tutorial.
"We're being inundated with calls and are providing lantern-making packs and materials right across the five Neighbourhood Renewal Areas across Derry City and Strabane.
"It's been a wonderful success and there's going to be several more tutorials and online activities in the lead up to Halloween, including the Shapeshifters costume-making tutorials.
"Despite the situation this year, the positives are that we are bringing Halloween back to the community, to its roots and origins.
"In recent years people would maybe go and purchase a costume in a shop, but we wanted to take it back to the way it was back in the day when your mother said 'right, let's get you sorted with a costume', and it might have just been a sheet over your head with two holes cut in it.
Jim continued: "There's something nice about that and about the whole process. It's about entertainment that the whole family can engage in, encouraging creativity.
"That's what the online tutorials are trying to do. Even if you can't go out and purchase materials, everybody has old clothes and items that would work.
"We're encouraging people to be creative in that way and to be producers of culture and not just consumers.
"Those are the things you can do without having to go out the door. It's safe and all we do is point people in the right direction and hopefully inspire them."
NWCI are also working with five neighbourhood renewal areas – TRIAX, Outer North, Outer West, Waterside and Strabane town.
Each area has had an individual artist who has created a light-based installation that is then added to by the community.
"It's about individual groups and people within the neighbourhoods organising and creating, with our support and direction, their own light installations.
"The central focus for us has been organising activities in a safe and secure way within the communities – ensuring people have the right PPE, that there is social distancing, small groups of five people and no more.
"The exciting thing for me this year is that we are getting out into communities that we've rarely worked in before.
"We've engaged right across the Waterside, including Caw, Currynierin/Tullyally, Clooney and Drumahoe, and, in addition, there has been several Halloween themed window displays created in various community and care home settings.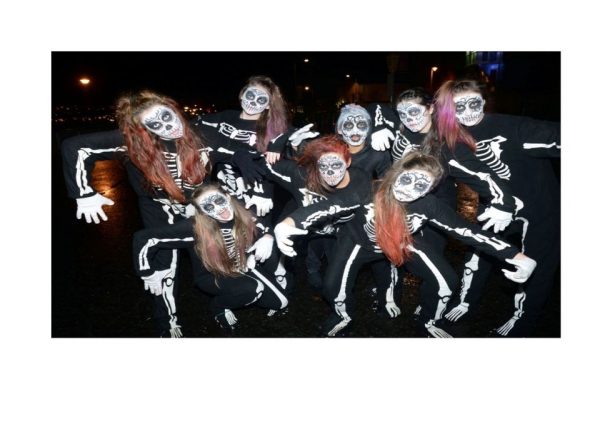 "I'm really hopeful that despite some of the problems and challenges we have faced, that this year we have continued to engage communities at Halloween and that we'll have those people directly participating in what we organise going forward in the future.
Jim concluded: "This year there won't be the traditional Halloween Carnival Showcase but keep your eye out for 'The Awakening' film due for release on social media platforms on Halloween night itself. Remember, have fun and stay safe."
You can view the NWCI online tutorials on www.derryhalloween.com/timetoprepare or through Derry Halloween YouTube and social media channels.
For more on the NWCI, visit: https://www.facebook.com/NorthWestCarnivalInitiative
And for full details on this year's Derry Halloween visit www.derryhalloween.com
Tags:
While there is no Halloween carnival parade or Awakening the Walls this year, the North West Carnival Initiative has been working harder than ever on a programme that brings Halloween back to the communities and back to its roots in a safe way.