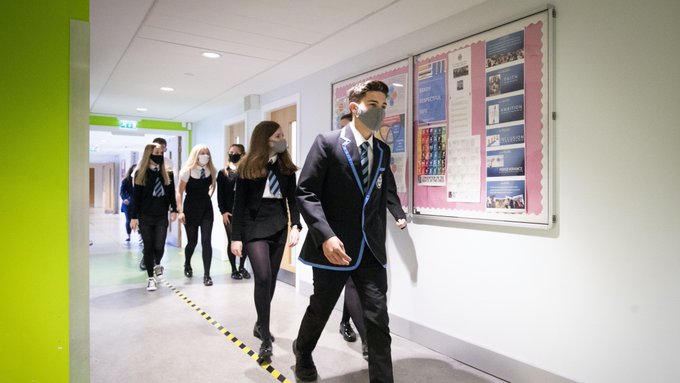 SCHOOLS across the North of Ireland are to close from next Monday, October 19, and hospitality businesses will face tight new restrictions from this Friday, October 16.
The moves are among a number of restrictions expected to be announced in the assembly today at 10.30 am.
In a bid to stem cases of Covid-19, restaurants will be limited to takeaway and delivery only for four weeks.
Health officials had warned infections would rise further if both schools and hospitality premises remained open.
It is understood the executive has agreed that schools will close for two weeks, including the half-term holiday, until Monday, November 2, at which time a review of the impact of closure will occur.
Talks between ministers ran from Tuesday night into the early hours of Wednesday as they attempted to reach a compromise on a range of decisions.
There are new restrictions coming into place for weddings and civil ceremonies.
It is understood that from Monday, weddings and civil partnerships will be limited to 25 people and "no receptions" will be permitted.
There will be exemptions from the wearing of face coverings for such ceremonies in places of worship.
Funerals will also be limited to 25 people, with no pre or post-funeral gatherings permitted.
It is believed further guidance will be issued advising against unnecessary travel.
It is understood ministers have agreed no additional restrictions will be placed on non-essential retail shops, but there will be "urgent engagement" with the sector to ensure it is taking all possible measures to prevent further spread of the virus.
The DUP had argued it was critical schools did not close for a longer period, while Sinn Féin said medical evidence proved further action was necessary.
It is understood the party wanted schools to close for four weeks.
Many schools will now only have to close for one extra week in addition to the one-week half-term break, although some schools normally take shorter half-term breaks.
The executive is also understood to have agreed to advise universities and further education colleges to deliver distance learning as much as possible.
It is understood ministers have agreed to the following measures to take effect from Friday for four weeks:
Closure of the hospitality sector, apart from deliveries and takeaways
Other fast-food and takeaway premises will have to close at 23:00
Off-licences and supermarkets will be told not to sell alcohol after 8 pm
No indoor sport of any kind or organised contact sport involving mixing of households, other than at elite level
Close contact services – apart from those meeting essential health needs – will have to close, but businesses will be defined under the regulations
Mobile hairdressers and make-up artists – also classed as close contact services – will be prohibited from providing their services in people's homes
Gyms can remain open but only for individual training – no classes will be permitted
Places of worship can remain open but face coverings will be mandatory when entering and exiting
The current restrictions on household mixing are expected to remain as they are.
That would means no mixing of households in private dwellings – with exceptions including those joined in social bubbles – and gatherings in the gardens of private dwellings limited to six people from no more than two households.
On Tuesday seven more Coronavirus-related deaths have been recorded by the Department of Health in the North of Ireland.
Another 863 cases of the virus were also reported by the department, bringing the North of Ireland's total to 21,898 – more than a quarter of which have been recorded in the past seven days.
In the Derry City and Strabane council area, the UK's worst-hit area, the Covid infection rate is 969 per 100,000 of the population in the past week.
Tags: